37 Words: Title IX and Fifty Years of Fighting Sex Discrimination (Hardcover)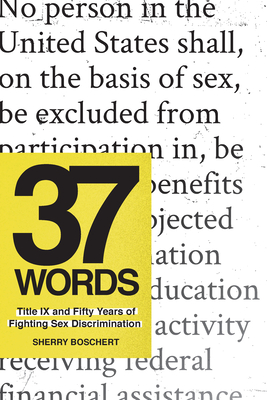 $29.99

Usually Ships in 1-5 Days
Description
---
A sweeping history of the federal legislation that prohibits sex discrimination in education, published on the fiftieth anniversary of Title IX
"No person in the United States shall, on the basis of sex, be excluded from participation in, be denied the benefits of, or be subjected to discrimination under any education program or activity receiving federal financial assistance."
--Title IX's first thirty-seven words
By prohibiting sex discrimination in federally funded education, the 1972 legislation popularly known as Title IX profoundly changed the lives of women and girls in the United States, accelerating a movement for equal education in classrooms, on sports fields, and in all of campus life.
37 Words is the story of Title IX. Filled with rich characters--from Bernice Resnick Sandler, an early organizer for the law, to her trans grandchild--the story of Title IX is a legislative and legal drama with conflicts over regulations and challenges to the law. It's also a human story about women denied opportunities, students struggling for an education free from sexual harassment, and activists defying sexist discrimination. These intersecting narratives of women seeking an education, playing sports, and wanting protection from sexual harassment and assault map gains and setbacks for feminism in the last fifty years and show how some women benefit more than others. Award-winning journalist Sherry Boschert beautifully explores the gripping history of Title IX through the gutsy people behind it.
In the tradition of the acclaimed documentary She's Beautiful When She's Angry, 37 Words offers a crucial playbook for anyone who wants to understand how we got here and who is horrified by current attacks on women's rights.
About the Author
---
Sherry Boschert is an award-winning journalist and the author of Plug-in Hybrids: The Cars That Will Recharge America. Among her many honors, she received a Distinguished Service Award from the Society of Professional Journalists for her efforts to promote equity within the news industry. She lives in New Hampshire.