The Big Book of Celebrity Autopsies (Paperback)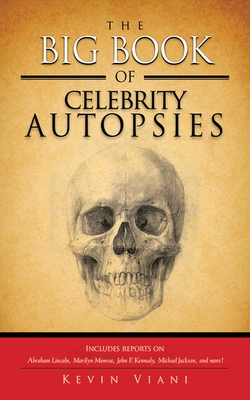 $14.95
Email or call for price
Description
---
From JFK to Marilyn--the morbid, medical, and mysterious facts behind the most famous celebrity deaths.

When a life ends tragically whether by violence or accident, pathologists perform an autopsy to determine the cause of death. It is a methodical, morbid, and necessary task.

These autopsy reports, often filled with medical terminology and intriguing diagrams of the bodies we knew so well from their lives on the big screen, offer an unusual insight into the nature of death itself. The reports you'll find here provide a fascinating glimpse into the underworld that hovers just beyond the reach of the living.

Includes the autopsy files or transcriptions from dozens of famous people including:

Presidents: Abraham Lincoln and John F. Kennedy
Politicians: Simon Bolivar, Adolf Hitler, Vladmir Lenin, and Malcolm X
Assassins and Criminals: Lee Harvey Oswald, Jesse James, and Bonnie and Clyde
Musicians and Movie Stars:Elvis Presley, Marilyn Monroe, Notorious B.I.G., Janis Joplin, Whitney Houston, and Ludwig Van Beethoven

In a world more obsessed with celebrity than ever before, these reports are a sobering reminder of how fleeting real fame can be--and how destructive and dangerous as well.

Skyhorse Publishing, as well as our Arcade imprint, are proud to publish a broad range of books for readers interested in history--books about World War II, the Third Reich, Hitler and his henchmen, the JFK assassination, conspiracies, the American Civil War, the American Revolution, gladiators, Vikings, ancient Rome, medieval times, the old West, and much more. While not every title we publish becomes a New York Times bestseller or a national bestseller, we are committed to books on subjects that are sometimes overlooked and to authors whose work might not otherwise find a home.