Martian Ghost Centaur (Paperback)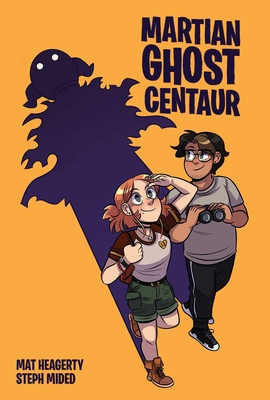 Description
---
Full of humor, heart, and hilarious high jinks, Martian Ghost Centaur is a touching story about protecting the things you love and following your passion.

The town of Southborough used to be a major tourism destination, drawing folks from all over in the hopes they'd spot the famous Sasquatch, reportedly seen in the town many times over the years. But it's been ages since anyone's spotted the 'squatch, and tourism is starting to dry up. A tech company called Start-up.com (a start-up that helps people start their own start-ups) decides to begin buying up places all over town in order to build their techie headquarters, driving out all the local townspeople. Luckily, Southborough is also home to Louie O'Connor, firm believer in the Sasquatch's existence and all-around, mega 'squatch fan.

When Louie's dads' restaurant, Squatch Burger, starts to go under and fall prey to the techie start-up, Louie and her best friend Felix decide they'll do whatever it takes to save the town from losing all the people and places that make it special. In hopes that convincing people the Sasquatch is real and to drive back tourism, Louie and Felix plan an elaborate hoax in hopes of saving the town from the dot-com takeover. But when Felix starts talking about leaving their hometown for college in LA, Louie will have to face some tough questions about herself, her future career, and her place in her beloved hometown.
About the Author
---
Mat Heagerty lives in the Bay Area with his wife, daughter, son and black lab. For over a decade he's bartended at a really special bar in San Francisco called El Rio. Mat's dyslexic, and struggled a bunch in school, but now he writes rad comics like 'Unplugged and Unpopular' and this one! You can find him on twitter @matheagerty or on his website matheagerty.com.

Stephanie Mided is a comic artist and illustrator from Chicago, IL who loves all things comedic, cute, and colorful. When she isn't working on comics, she spends her time collecting records and stopping her two cats from spilling drinks all over her desk. For more of her work visit Stephmided.com.
Praise For…
---
"Martian Ghost Centaur makes me want to visit Southborough, grab a meal at Squatch Burger and hang out with all the characters because it's so charming and heart-warming."
— Yehudi Mercado (Sci-Fu)

"Readers will appreciate this campy adventure that has touches of Scott Pilgrim and Lumberjanes and ends on a valuable message about maintaining boundaries between work and identity."
— School Library Journal

"[...] This fun story has something for everyone, including thinly veiled '90s pop-culture references, matter-of-fact LGBTQ+ representation, and small town heart, and high-spirited, passionate Loui, who's angry about the opportunistic take-over of her town, is a lively protagonist. Hand to fans of Lumberjanes or The Unbeatable Squirrel Girl."
— Booklist