Invader ZIM Vol. 2: Deluxe Edition (Hardcover)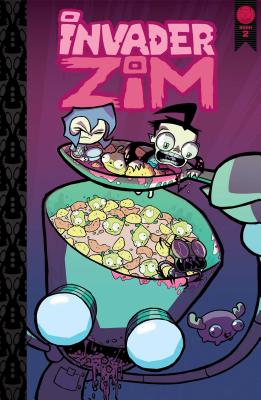 $49.99

Usually Ships in 1-5 Days
Other Books in Series
This is book number 2 in the Invader ZIM series.
Description
---
At long last, another deluxe hardcover edition of the Invader ZIM comics! They're bigger! They're badder! They're better! Actually, they are just bigger, and otherwise the same comics. But don't they always say bigger is better? This collection of issues #11-#20 of the beloved comic features a hilarious slate of ZIM comics, including "Floopsy Bloops Shmoopsy," "Burrito King," "ZIMZOO," "Tales of Ms. Bitters," and more! So much more. Maybe... too much? Naaaaah.


About the Author
---
Jhonen Vasquez is a writer and artist who walks in many worlds, not unlike Blade, only without having to drink blood-serum to survive the curse that is also his greatest power (still talking about Blade here). He's worked in comics and animation and is the creator of Invader ZIM, a fact that haunts him to this day.

Aaron Alexovich's first professional art job was drawing deformed children for Nickelodeon's Invader ZIM. Since then he's been deforming children for various animation and comic projects, including Avatar: The Last Airbender, Randy Cunningham: 9th Grade Ninja, Disney's Haunted Mansion, Fables, Kimmie66, ELDRITCH! (with art by Drew Rausch) and three volumes of his own beloved horror/comedy witch comic dealie, Serenity Rose.

Katy Farina is a comic artist and illustrator based in Los Angeles, CA. She's currently a background painter at Dreamworks TV. In the past, she's done work with Boom! Studios, Oni Press, and Z2 Publishing. In the rare instance she isn't working on comics, she moonlights as the Baba Yaga; enticing local youth into ethical dilemmas and scooting around in her chicken-legged hut.

Warren Wucinich is an illustrator, colorist, and part-time carny currently living in Dallas, TX. When not making comics he can usually be found watching old Twilight Zone episodes and eating large amounts of pie.

Fred C. Stresing is a colorist, artist, writer, and letterer for a variety of comics. You may recognize his work from Invader ZIM. He has been making comics his whole life, from the age of six. He has gotten much better since then. He currently resides in Savannah, Georgia with his wife and two cats. He doesn't know how the cats got there, they are not his.

Cassie Kelly was born in the District of Columbia, in October of 1986. Originally starting her artistic career in product design and illustration, she only just started coloring comics in early 2015. She currently resides in Ohio with her husband, Drew, and their children: Valentine, Rogue, Mozart, Garak, and Pickle.