Seeds of Hope Lib/E: Wisdom and Wonder from the World of Plants (Compact Disc)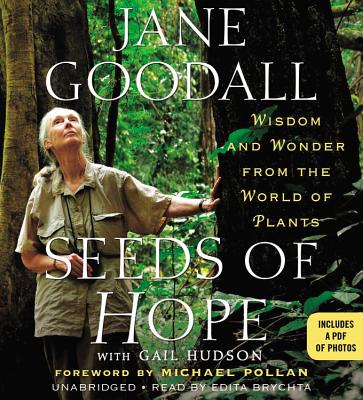 for information about purchasing this book, please contact orders@bookpassage.com
Description
---
In her wise and elegant new audiobook, Jane Goodall blends her experience in nature with her enthusiasm for botany to give listeners a deeper understanding of the world around us.
Long before her work with chimpanzees, Jane Goodall's passion for the natural world sprouted in the backyard of her childhood home in England, where she climbed her beech tree and made elderberry wine with her grandmother. The garden her family began then is a place she continues to enjoy today.
Seeds of Hope takes us from England to Goodall's home-away-from-home in Africa, deep inside the Gombe forest, where she and the chimpanzees are enchanted by the fig and plum trees they encounter. She introduces us to botanists around the world, as well as unique places for plants, such as The Millennium Seed Bank, where one billion seeds are preserved. This world of plants, with all its mysteries, shows us how we can heal our bodies and the planet itself.
Looking at the world as an adventurer, a scientist, and a devotee of sustainable foods and gardening, Jane Goodall delivers an enlightening story of the wonders we can find in our own backyards.