New-Generation African Poets: A Chapbook Box Set (Nne) (Paperback)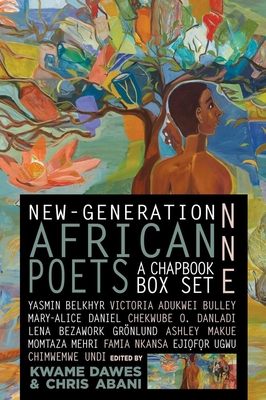 $29.95

Usually Ships in 1-5 Days
Description
---
Edited by Kwame Dawes and Chris Abani, the yearly poetry chapbook set is a delightful combination of emerging African poets. This year's collection is no less ambitious in its scope: Nne introduces poets of a singular talent, exploring themes of belonging, questioning lands and seas that offer them refuge and refuse them at the same time. Giving voice to new poets is a particularly necessary task, and the African Poetry Book Fund continues to do so every year.
--World Literature Today
Profound and thought-provoking...A fascinating collection of diverse voices bringing new ideas to the world of poetry.
--The Journal (West Virginia)
This limited-edition box set of ten African poets is gorgeous. Not only does it introduce readers to the best poetry by contemporary poets of the African and the African diaspora, it showcases the art of Eritrean painter Ficre Ghebreyesus. . .As Abani says in his preface, no body has been more commoditized and dehumanized than the black body, the African body. The collection provides space for these reclamations. The poets write about religion, political issues, memory and forgetting, immigrant experiences and relationships. Some poems are quiet and reflective, some lively and sharp, all using sound and metaphor in unexpected ways.
--Newcity
An amazing assemblage in this set of ten chapbooks. The entirety of it--the books and the language, the art and the binding--is a thing of beauty, and reading it is an experience not to be missed.
--New York Journal of Books
Dawes and Abani have taken on the vital project of publishing short collections by contemporary poets from Africa, packaged together in beautiful boxed sets.
--New York Times Magazine, on New-Generation African Poets: A Chapbook Box Set (Tatu)
Praise for New-Generation African Poets: A Chapbook Box Set (Tatu):
New-Generation African Poets is an ambitious, vital project that delivers exactly what it promises. . .As a group, the chapbooks dispel stereotypes about African writing. They also illustrate what editors Dawes and Abani note about the many ways poets can understand or redefine their ties to Africa. These insights are poignant and valuable, especially at a time when millions around the globe find themselves somewhere between new countries and ancestral lands they've left behind.
--Washington Post
Each poem has an edge that cuts deeply. . .A collection pulsing with fresh talent in a series that poetry lovers worldwide should be grateful for.
--Shelf Awareness
The limited-edition box set is an annual project started in 2014 to ensure the publication of seven to ten chapbooks yearly by African poets through Akashic Books. The series seeks to identify the best poetry written by African poets working today, and it is especially interested in featuring poets who have not yet published their first full-length book of poetry.
The ten poets included in this box set are: Yasmin Belkhyr, Victoria Adukwei Bulley, Chekwube O. Danladi, Mary-Alice Daniel, Lena Bezawork Gronlund, Ashley Makue, Momtaza Mehri, Famia Nkansa, Ejiofor Ugwu, and Chimwemwe Undi.
About the Author
---
Kwame Dawes is the Ghanian-born, award-winning author of eighteen collections of poetry, most recently Duppy Conqueror, as well as two novels, numerous anthologies, and plays. He has won Pushcart Prizes, a Guggenheim Fellowship, an Emmy, and was the 2013 awardee of the Paul Engel Prize. At the University of Nebraska-Lincoln, he is a Chancellor's Professor of English and Glenna Luschei Editor of Prairie Schooner. Dawes is the associate poetry editor at Peepal Tree Press, the series editor of the University of South Carolina Poetry Series, and the founding director of the African Poetry Book Fund. Dawes teaches in the Pacific MFA Program and is director of the biennial Calabash International Literary Festival. He is the author of Gomer's Song; translator of Go de Rass to Sleep; and editor of So Much Things To Say and Eight New-Generation African Poets. Chris Abani, a Nigerian-born, award-winning poet and novelist, currently teaches at Northwestern University in Chicago. He holds a BA in English, an MA in gender and culture, an MA in English, and a PhD in literature and creative writing. He is the recipient of a PEN USA Freedom-to-Write Award, a Prince Claus Award, a Lannan Literary Fellowship, a California Book Award, a Hurston/Wright Legacy Award, a PEN Beyond Margins Award, a PEN/Hemingway Award, and a Guggenheim Award. He is the author of The Secret History of Las Vegas, Song for Night, The Virgin of Flames, Becoming Abigail, GraceLand, and Masters of the Board. His poetry collections are Sanctificum, There Are No Names for Red, Feed Me the Sun, Hands Washing Water, Dog Woman, Daphne's Lot, and Kalakuta Republic. He is the editor of Eight New-Generation African Poets.