Murder Below Montparnasse (An Aimée Leduc Investigation #13) (Paperback)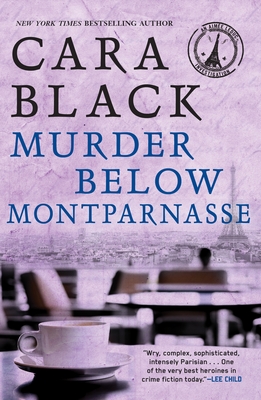 Other Books in Series
This is book number 13 in the An Aimée Leduc Investigation series.
Description
---
A long-lost Modigliani portrait, a grieving brother's blood vendetta, a Soviet secret that's been buried for 80 years—Parisian private investigator Aimée Leduc's current case is her most exciting one yet.
The cobbled streets of Montparnasse might have been boho-chic in the 1920s, when artists, writers, and their muses drank absinthe and danced on cafe tables. But to Parisian private investigator Aimée Leduc, these streets hold darker secrets. When an old Russian man named Yuri hires Aimée to protect a priceless painting that just might be a Modigliani, she learns how deadly art theft can be. Yuri is found tortured to death in his atelier, and the painting is missing. Every time Aimée thinks she's found a new witness, the body count rises. What exactly is so special about this painting that so many people are willing to kill—and die—for it?
About the Author
---
Cara Black is the author of sixteen books in the New York Times bestselling Aimée Leduc series. She lives in San Francisco with her husband and visits Paris frequently.
Praise For…
---
Praise for New York Times Bestselling Murder Below Montparnasse

A Strand Magazine Best Book of the Year

"Francophiles and mystery-novel lovers alike will devour investigator Aimée Leduc's latest outing, which takes her through the gorgeous if treacherous world of black-market art in Paris, as she safeguards a long-lost Modigliani painting."
—Entertainment Weekly

"As always, with airfares so high, Black offers armchair travelers a whirlwind trip through the City of Light."
— USA Today

"Aimée Leduc, the appealing sleuth in this series . . . is always zipping around on her pink Vespa, carrying out some "quick and dirty" computer security job. But she keeps up a running commentary on whatever quartier of the city her work takes her to. Here it's the unfashionable backside of Montparnasse . . . This unassuming neighborhood is a rich one for the purposes of a plot that hangs on a Modigliani canvas and involves Russian émigrés and Surrealist artists, including some who live on in legend."
—The New York Times Book Review

"[Black's] tone is lighter than in most other Euro-noir. After all, this is Paris . . . The spice in this tale, set in 1998, involves a long-hidden, newly stolen Modigliani that Leduc is hired to retrieve. Before she can even begin hunting, her client is killed . . . Fortunately, Leduc has a network of loyal friends to aid in her escapades. Pity the knife-wielding villain who offends that infallible sense of style."
—The Wall Street Journal

"Aimée Leduc is never less than chic."
— The Seattle Times

"Black is an old pro with a ear for language and dialogue and a gift for knowing just when to pop the next surprise."
—The Denver Post

"For those who love or long for Paris, Cara Black's Murder Below Montparnasse is an intriguing wander through the streets of the French capital."
—Noir Journal

"A breathless tale of double-, triple- and quadruple-crosses as the private eye finds herself at the heart of a century-old plot that incorporates not only the great painters of the avant garde but also one Vladimir Illyich Lenin."
—The Irish Times

"Thoroughly and intriguingly plotted, as always...[grabs] the reader from its opening pages to its heart-rending denouement.  Further, the Paris setting, especially its Montparnasse locale, is marvelously evoked by Black, a frequent visitor to France.  A visitor she may be, but she writes of The City of Lights like a native Parisian."
—Deadly Pleasures

"Brisk, engaging . . . Another great Aimée Leduc read; fans will be intrigued by the new developments."
—Library Journal

"Tantalizing."
—Publishers Weekly

"Aimée [goes] into high gear, and that turns out to be a very good thing as the plot strands start raining down on her like golf-ball-sized hailstones . . . Longtime fans of the series will turn pages frantically, hoping to finally meet Aimée's mother, and, as  always, Black directs traffic with panache."
—Booklist

"Dressed in black leather leggings, ballet flats, a retro-Pucci silk tunic topped by a flounced jacket, sitting on a Recamier sofa, her bichon frise Miles Davis beside her, discussing the latest case with her associates, dwarf-like computer expert René Friant and down-at-the heels aristocrat Saj de Rosnay, she can only be Aimée Leduc, the most famous private detective in Paris."
—The Baton Rouge Advocate

"Black's writing is wonderfully evocative, making you feel like you're walking on the streets of Paris with Aimee or ducking into a bistro with her. Even if you haven't read any of the previous books, you can jump into the series with this novel without much effort, and with the reward of reading a wonderfully crafted and involving mystery."
—Suspense Magazine

"As usual, Cara Black imparts her love for Paris. Here she vividly sketches the past glamour of Montparnasse."  
—New York Journal of Books

"Murder Below Montparnasse is fast-paced, exciting and interesting."
—Bookgasm

"This series gets better and better with each book, and I can't wait to see what sort of trouble Aimée gets into next!"
—Kittling Books

Praise for the Aimée Leduc series

"Forever young, forever stylish, forever in love with Paris—forever Aimée."
—New York Times Book Review 

"Transcendently, seductively, irresistibly French."
─Alan Furst, author of Night Soldiers
 
"Wry, complex, sophisticated, intensely Parisian.... One of the very best heroines in crime fiction today."
─Lee Child, author of the Jack Reacher series
 
"So authentic you can practically smell the fresh baguettes and coffee."
—Val McDermid, author of The Mermaids Singing

"[Cara Black] is on to a good thing: each of her novels is set in a colorful Parisian neighborhood—and there are a lot of them. The cumulative result of reading this addictive series is a sort of mini-tour of the city, as seen through a filter of fictional murder.... Leduc is always a reliable and charming guide to the city's lesser-known corners."
—The Seattle Times

"Black creates rich, plausible characters, giving them individuality and depth."
—San Francisco Gate
 
"Brilliant.... Turn to the Aimee Leduc series for edge-of-your-seat action and intelligent commentary on the world and the past."
—Bookslut
 
"Cara Black never fails to bring Paris alive in each of the twelve books."
—Murder By Type