Button Power: 125 Years of Saying It with Buttons (Hardcover)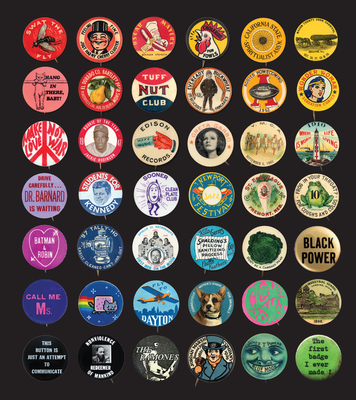 $24.95

Usually Ships in 1-5 Days
Description
---
From the campaign trail to the rock tour, Button Power collects a people's history of American culture told through the pin-back button. Lively commentary from two of America's foremost button experts shows how the small but powerful button reveals the events and movements that outraged, amused, and inspired us over time, from the solo flight of Charles Lindbergh to the Black Power movement.

Artists, athletes, actors, politicians, punk and pop musicians, and mascots of the past 125 years make cameos, including Rube Goldberg, Muhammad Ali, the Ramones, Shirley Chisholm, Maratona the Snake Handler, and Ray Stevens, singer of "The Streak." The first book of its kind, Button Power is a rich visual feast. Each colorful spread chronicles defining moments in history through colorful photographs and artifacts. This collection will be an essential pick for fans of pop culture, visual culture, and design.
About the Author
---
Christen Carter is the founder of Chicago-based Busy Beaver Button Company and has produced more than 30 million buttons for bands, artists, political campaigns, and more. In 2010, she started the Button Museum, dedicated to revealing American history through pin-back buttons.

Ted Hake is the founder of Hake's Auctions, America's first auction house to specialize in popular culture artifacts. He has written seventeen collectors' guides that span presidential campaign items, vintage Disneyana, and comic character toys. Ted has received the American Political Items Collectors Lifetime Achievement Award and is a member of the Theodore Roosevelt Association Advisory Board.
Praise For…
---
"The history is well-chosen: Among the detours here, for example, a brief look at how 19th-century bicyclists used buttons to advocate for better roads. But the buttons themselves - rare, racist, sweet, corporate, absurdist, touching on topics as disparate as Donald Trump and the Great Chicago Fire - are the draw, covering nearly every page. As Christen Carter and Ted Hake argue surprisingly well, the button was a prototype of social media."
- Chicago Tribune

"Obviously, Button Power is a must- have for pin-back button collectors, or even those looking to start a new col- lection. Nostalgia fans will get lost in its pages. For those of a certain age with younger family members, this book might prove to be the perfect launchpad for oral history-type con- versations. For anyone who doesn't fit into one of these categories, the book is just plain fun."
- Antique Week

"Few things in this world are as quirky a choice of fashion as a button, and according to author Christen Carter, few things encapsulate a story as well as one, too. This is their power - which might be why the title of the book Carter co-wrote with Ted Hake is Button Power."
- Whatever (blog)

"Button experts Christen Carter, founder of Chicago's Busy Beaver Button Company and the Button Museum, and Ted Hake, owner of Hake Auctions, have put their extensive knowledge of the subject into the new book, Button Power: 125 Years of Saying It With Buttons, a cultural journey showcasing 1,500 of the most important and unique pinbacks throughout history."
- Mental Floss

"Button Power: 125 Years of Saying It with Buttons...takes a deep look at a form of wearable expression that preceded social media and reflects the history of American culture in all of its arenas, from politics to entertainment to sports, and everything in between."
- Antiques The Arts Weekly

"Christen Carter and Ted Hake bring an energy and passion to their new book, Button Power: 125 Years of Saying It with Buttons, you would expect from two of America's foremost button experts. What is surprising, however, is just how wildly entertaining and informative their work is. Who knew the button could be so captivating?"
- Antique Trader

"From political campaigns to punch lines to keepsakes, the button has packed bits of incredibly rich history into just a few inches....Button Power compiles a diverse array of notable figures, from Shirley Chisholm and the Ramones to Rube Goldberg and Muhammad Ali, each represented through the wearable item."
- Colossal

"I still have a few antique buttons I've collected over the years, but most were thrown out long ago. This is why I'm so glad to have Button Power by Christen Carter and Ted Hake. This is an orgy of button love, including chapters on Arts, Campaigns, Nature, People, Places, War and Anti-war, and more, more, more."
- The Daily Heller

"Since our very first president, Americans have adorned themselves with political messages. A compact way to tell the world about your political views and preferred candidates, buttons and pins have long served as simple, easy ways to boldly show your support....For those looking to delve deep into these petite historical relics, Princeton Architectural Press' new book Button Power: 125 Years of Saying it with Buttons tells important stories from American history, with sections on sports, pop icons, TV and movies, bands, cartoons and comics, precursors to emojis, and activism."
- Art Object

"History nerds and design geeks alike will flip over this coffee table tome devoted to the pin-back button, charting its role in everything from presidential elections to the Black Power movement. It's co-authored by Christen Carter, the founder of Chicago-based Busy Beaver Button Company, which hosts an in-house museum devoted to notable pins from throughout history. After flipping through pages packed with photos and cultural commentary, you'll come to realize the undeniable power of the humble button."
- Time Out Chicago

"This sharp new hardcover is 8 x 9 inches and features over 1000 color illustrations across 192 pages. This first in-depth book on the topic of buttons is, well, all buttoned-up very nicely."
- Typo-Graphical