Sally Heathcote, Suffragette (Hardcover)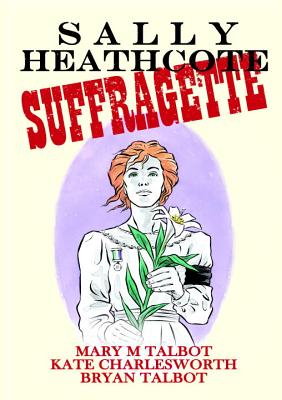 $19.99
Email or call for price
Description
---
A tale of loyalty, love, and courage, Sally Heathcote, Suffragette follows the fortunes of a common housemaid swept up in the feminist militancy of early 20th century Edwardian Britain. As the growing hunger for change grows within a culture of rigid social mores and class barriers, Sally and thousands like her rise up to break the bonds of oppression at the risk of ostracization and violence.

Costa Award winners Mary and Bryan Talbot and acclaimed illustrator Kate Charlesworth have crafted a graphic novel of stunning depth, gripping drama, and lavish visual detail that brings history to life.
About the Author
---
Dr Mary Talbot is the author of the graphic novel Dotter of her Father's Eyes (JDark Horse Books 2012), illustrated by her husband, award winning comic artist Bryan Talbot. She is an internationally acclaimed scholar who has published widely on language, gender and power, particularly in relation to media and consumer culture. Dotter is the first work she has undertaken in the graphic novel format. It went on to win the Costa Biography Award in January 2013. The author lives in Sunderland, UK.