The Grandfamily Guidebook: Wisdom and Support for Grandparents Raising Grandchildren (Paperback)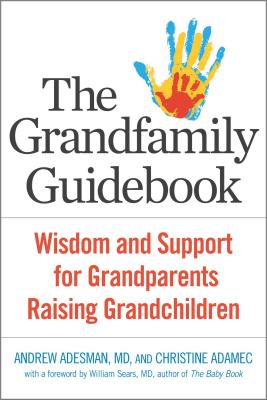 $17.95
Email or call for price
Description
---
Are you one of nearly 3 million grandparents across North America raising your grandchildren as part of a grandfamily? You may have done all this parenting stuff before, but times have changed since you raised your own kids, and you likely never thought you'd be raising kids again.

What has led to all these family issues and the growing need for grandparents to step up? Now more than ever, substance use and addiction have made many birth parents simply unfit for the job, whether the problem is alcohol, opioids, or other drugs. Family dynamics might also be undermined by parents' mental health or medical problems, incarceration, or a simple lack of preparedness for family responsibilities. Whatever the reason for your new role, you must now help your grandchildren adjust to their extended family as part of their everyday life, through the best care you are able to provide. While your new role means that you will likely have to change the way you live, the kinship care you provide your grandchildren might make all the difference in the world.

In The Grandfamily Guidebook—which leading medical experts have called a "must-have" resource for grandparents raising grandchildren—authors Andrew Adesman, MD, and Christine Adamec offer expert medical advice, helpful insights gleaned from other grandparents, and data mined from the 2016 Adesman Grandfamily Study—the broadest and most diverse research study of its kind to date. You'll also find hands-on tips you'll be able to reference whenever you need them, including how to cope with difficult birth parents, school issues and social-life challenges, problem behaviors that stem from a difficult past, and your own self-care.

Starting with its foreword by the renowned Dr. William Sears, across this book you will find practical, inspiring help as you navigate the financial impacts, legal considerations, and medical issues that commonly arise when grandparents and grandchildren start becoming a grandfamily.
About the Author
---
Dr. Andrew Adesman is a nationally recognized pediatrician with expertise in the areas of parenting and child development. He is a professor of pediatrics at the Donald and Barbara Zucker School of Medicine at Hofstra/Northwell. He also serves as chief of the Division of Developmental and Behavioral Pediatrics at the Steven & Alexandra Cohen Children's Medical Center of New York. The author of the trusted book Baby Facts, in 2016 Adesman completed the largest nationwide study of grandparents serving as parents.

Christine Adamec is a self-help, health, and wellness writer who has coauthored more than 40 books, including When Your Adult Child Breaks Your Heart; The A-Z of Phobias, Fears, and Anxieties; and Fibromyalgia for Dummies. She and her husband are now raising a grandchild.

This is the second book from coauthors Adesman and Adamec; they previously worked together on Parenting Your Adopted Child.
Praise For…
---
"Wow, what a needed book…Growing up cared-for and mentored by grandparents taught me why they deserve to be called "grand" parents…The many practical pointers in The Grandfamily Guidebook come together as a toolbox with which new grandparents can tackle life's many challenging situations…If kids came with a guidebook, this book would be it. As a pediatrician and grandfather, I am honored to highly recommend this grand resource for grandfamilies."
— William Sears, MD

"Grandparents who take on parenting will find much-needed encouragement and a wealth of practical information in this clear, authoritative book. It ought to be required reading, both for parenting grandparents and for the professionals—pediatricians and family doctors in particular—whose job it is to support them."
— Robert Needlman, MD

"In times when families and generations are blending, we are seeing more and more grandparents taking on parental roles. The Grandfamily Guidebook adeptly provides invaluable information and helpful tips to navigate the increasingly common scenario of grandparents raising their children's children. As a surgeon who treats countless permutations of what composes a family unit, I see that now more so than ever the grandparent assumes a parental role. This book is a must-have guide to better navigate the territory of parenting as grandparents."
— Nina L. Shapiro, MD

"Few of us grow up expecting to be raising toddlers when we're on the eve of our own retirement. But for millions of American children, their parents are no longer part of traditional family structure. Is this reliance on grandparents to step in for round two of parenting the new normal? For too many families it is. The Grandfamily Guidebook is an indispensable part of modern child rearing and lends a parent/ grandparent a right hand when we all need it the most."
— Nancy Snyderman, MD

"This is the book you need when you become a parent all over again for your grandchild. While no one plans for this to happen, you need a plan when it does! And while children have not changed in the past thirty years, what we have learned about them has. This is the guide for navigating the challenges and joys of raising your grandchild."
— Ari Brown, MD

"A practical and sympathetic guide that will truly help grandparents navigate the complex logistics and the profound emotions of caring for their grandchildren, and for themselves, in the families they create together."
— Perri Klass, MD

"The Grandfamily Guidebook is a must-read for grandparents raising their grandchildren, as well as for the providers taking care of the entire family. With easy-to-understand medical, psychological, and legal information and resources, this book provides the essentials for healthy "grandfamilies" that include healthy children as well as healthy grandparents. Well written and well researched, this book is sure to become a classic "must-have" on providers' as well as grandparents' and parent's book shelves."
— Robin Miller, MD

"Dr. Adesman's latest book written in partnership with Christine Adamec, a grandmother parenting her grandson, is an invaluable handbook for grandparents raising their grandchildren. It describes many of the common but often complex and even wrenching challenges grandparents may face, along with practical strategies and information. The book includes real-world cases, along with data from Dr. Adesman's original research, which makes for a very readable, engaging, and valuable book. It is an important new resource for all grandfamilies."
— Carol Cohen Weitzman, MD

"The Grandfamily Guidebook is one of the best resources available for grandparents raising grandkids. It masterfully interweaves suggestions for financial, academic and other types of 'help' with workable options for solving other everyday issues. The numerous quotes from grandparents ,who share openly their messy, heart-wrenching personal stories and lessons learned are touching and insightful. Easy to read and totally relevant."
— Joan Callander Dingle

"Grandfamilies are usually formed at a time of crisis. Over the pastdecade, several million grandparents have taken on the parentingrole for one or more of their grandchildren. Once the initial shockhas subsided, The Grandfamily Guidebook can support grandparentsas they cope with, adjust to, and thrive in their new role. In plainlanguage, Adesman and Adamec describe ways of identifying anddealing with grandparents' feelings and ways of managing the middlegeneration of birth parents. They use meaningful vignettes toillustrate how to understand children's reactions and emotionalneeds, how to effectively guide and encourage children at home andin school, and how to set reasonable limits on their behaviors. This very practical and readable guide offers up-to-date psychological,medical, and even a little legal advice and resources. It is positive inits approach and provides both understanding and encouragement to grandparents raising grandchildren."
— Pamela High, MD

"Recognizing the large numbers of grandparents now raising grandchildren, Dr. Adesman and his colleague provide vast amounts of helpful advice, from the initial phases of taking on the parenting role through interacting with birth parents, managing illness and behavior, and interacting with schools. Much helpful advice relates to talking with children in ways that recognize their developmental abilities. And it provides good guidance on connecting with various public programs that can help support grandparents in their expanded roles. The Grandfamily Guidebook will be indispensable to the many grandparents entering this new phase in their lives."
— James Perrin

"The Grandfamily Guidebook is the perfect roadmap for grandparents navigating the journey of caring for their grandchildren! No matter what your circumstances, if you find yourself among these growing non-traditional families, Dr. Adesman and Christine Adamec lead the way from current child-rearing and safety practices important for all caregivers to financial and legal considerations unique to grandparents."
— Jennier Shu, MD

"The Grandfamily Guidebook is an excellent resource for navigating the challenges of raising grandchildren when your children—their parents—can't or aren't adequately caring for them. More and more families are facing this painful situation because of our national epidemic of opioid addiction. The authors share their expertise and insights gained from interviews with many grandparents who've stepped up in a crisis. They offer detailed practical advice for handling distressing decisions and conflicts that commonly arise. And they address, with considerable empathy, the roller coaster of emotions—stress, worry, resentment, joy—that come with finding yourself called to parent again. The authors offer not only emotional support but specific scripts to guide grandparents in difficult interactions."
— Harold Koplewicz, MD

"The Grandfamily Guidebook is a timely and comprehensive resource that addresses the complexities of reality for this growing community of families, in an easy-to-read, thoughtful manner."
— Elaine Schulte, MD

"Dr. Adesman and Ms. Adamec provide excellent, clear, and practical guidance that will be useful to grandparents facing the challenging child behaviors, difficult discussions, and complicated legal, financial, and life decisions that accompany becoming a parent again."
— Nathan Blum, MD

"Many of the elderly patients I care for experience the joys and heartaches of raising grandfamilies. This book is good medicine for all of them—a guide, a balm, and an inspiration. Like a close friend, it is both positive and real."
— Sharon A. Levine, MD

"The challenges of parenting a grandchild can be daunting: economic, social, emotional, legal, and behavioral. Based on their pioneering research and practical experience, the authors of The Grandfamily Guidebook offer grandparents valuable information to overcome each of these hurdles. With this expert help and support at their fingertips, grandparents will realize they are no longer alone."
— Irene S. Levine, MD

"The Grandfamily Guidebook offers comprehensive, tangible, useful information about topics as varied as parenting strategies, school and education, finances, legal rights, and more—all in a practical and easy-to-read format. Of special interest are the many sample conversations that offer grandparents words to use with children, teachers, birthfamily, and others as they navigate the unexpected but often joyful journey through parenting at older ages. This book is a mustread for all who find themselves raising grandchildren in the golden years."
— Susan Caughman

"The authors do an exceptional job acclimating grandfamilies to their 'new normal.' This guidebook covers a myriad of aspects impacting the lives of grandfamilies—from medical, psychological, and social issues, as well as how to cope with them. Because this guidebook is all encompassing of the lives of grandfamilies, it covers issues that can occur inside and outside of the home; focusing on shifting family dynamics, legal and financial resources, schooling, etc. I highly recommend this guidebook to grandparents who are just starting their grandfamily or to those who have been raising their grandchildren for years. A helpful guide, and a must-read."
— Bob Blancato

"I feel like I just read a whole set of encyclopedias about grandparents raising grandchildren, condensed into one book. I asked myself when I was done, "What did they miss?" and I couldn't think of a single thing. This book is cover-to-cover valuable straightforward information that is easy to read. Sixteen years into my journey as a grandparent raising her grandchildren and I still learned new things that will be helpful to me as I take on a second, younger grandchild. I so appreciate the effort and knowledge that created this book. I'll be reading it a second time, and I am sure I will be referring to it again and again over the years."
— DeeDee Sinatra

"Relatives stepping up to care for family is not new, but the numbers and the seriousness of the issues seem to have accelerated. The Grandfamily Guidebook is a nice blend of stories from real families Together with information and resources to help caregivers on their journey."
— Sharon Howell Olson

"Thank you so much for the guidebook. I'm sure I will refer back to it for many years to come. It covered the major impacts raising our grandchildren have. I have previously researched a lot of information on this so it is nice to have it all in one place. Most helpful to me was how to respond to questions by my grands or strangers."
— Cynthia Hallinger

"I have found this book to be very informative for whomever finds themselves walking this path. The stories I can relate to in ways the typical parent cannot. This journey we chose is not for the lighthearted, because of some of the choices we have to make along the way. I highly recommend this book for anyone thinking about walking this path and those walking it already. Have fun making memories and passing your knowledge to the future generation."
— B. Stacconi