Of Bears and Ballots: An Alaskan Adventure in Small-Town Politics (Hardcover)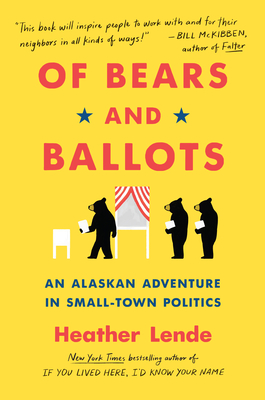 Description
---
"This book will inspire people to work with and for their neighbors in all kinds of ways!" —Bill McKibben, author of Falter 

The writer whom the Los Angeles Times calls "part Annie Dillard, part Anne Lamott" now brings us her quirky and compassionate account of holding local office.
 
Heather Lende was one of the thousands of women inspired to take a more active role in politics during the past few years. Though her entire campaign for assembly member in Haines, Alaska, cost less than $1,000, she won! But tiny, breathtakingly beautiful Haines—a place accessible from the nearest city, Juneau, only by boat or plane—isn't the sleepy town that it appears to be: from a bitter debate about the expansion of the fishing boat harbor to the matter of how to stop bears from rifling through garbage on Main Street to the recall campaign that targeted three assembly members, including Lende, we witness the nitty-gritty of passing legislation, the lofty ideals of our republic, and how the polarizing national politics of our era play out in one small town.

With an entertaining cast of offbeat but relatable characters, Of Bears and Ballots is an inspirational tale about what living in a community really means, and what we owe one another. 
About the Author
---
Heather Lende has contributed essays and commentary to NPR, the New York Times, and National Geographic Traveler, among other newspapers and magazines, and is a former contributing editor at Woman's Day. A columnist for the Alaska Dispatch News, she is the obituary writer for the Chilkat Valley News in Haines and the recipient of the Suzan Nightingale McKay Best Columnist Award from the Alaska Press Club. Her previous bestselling books are Find the Good, Take Good Care of the Garden and the Dogs, and If You Lived Here, I'd Know Your Name. Lende was voted Citizen of the Year, Haines Chamber of Commerce, in 2004. Her website is heatherlende.com.
Praise For…
---
"Written in her usual sprightly, witty, humble, effervescent style, this one will please [Lende's] fans."
—Kirkus Reviews

"Lende's vivid descriptions, good-natured humor, and adoration for her quirky neighbors further energize this engaging tale."
—Library Journal

"A detailed and amiable chronicle of [Lende's] three-year term as assemblywoman in Haines Borough, Alaska . . . Lende successfully balances the dry facts of assembly reports with humorous character sketches and lyrical odes to the natural beauty of Alaska. The result is an honest and inspirational investigation into why 'it's easy to say what's wrong with government; it's harder to fix it, and progress can be very slow.'"
—Publishers Weekly

"In this fraught, bewildering American era, Heather Lende's latest memoir is a blessed balm…What a blessing Lende's view of democracy, which she calls 'glorious chaos,'  is in this dark era.. She reminds us about the dreams we share, especially now, as we cry for, and struggle to save, our beloved country."
– The Minneapolis Star Tribune
 
"[Lende's] hard-won experience serves as both a Trump-era warning and a clarion call for citizens everywhere to honor public service and the representative democracy that depends on it."
– Anchorage Daily News
 
""As the reader follows [Lende's] soul-searching perseverance, a heartwarming realization of our common humanity and of our struggles to understand and live with each other shines through. This is, above all, an uplifting story of democracy at work in a far-flung, beautiful part of the U.S."
 – Booklist
 
"Heather Lende's fourth book about her hometown delightfully and insightfully explores small-town life and politics, Alaskan style."
– Shelf Awareness

"Citizenship—real, active citizenship of the kind we badly need—is hard work, as this book makes clear. But it's also rewarding in a profound way; hopefully this will inspire people to work with and for their neighbors in all kinds of ways!"
—Bill McKibben, author of Falter

"All politics is local, so it's said. If you haven't served on a local board or commission you haven't lived. If you have served and lived through it, Heather Lende feels your pain, and will have you laughing at hers. Sometimes a first rate writer also happens to be a first rate human being. I love when that happens."
—Tom Bodett, humorist (and former chair of the Selectboard of Dummerston, Vermont)

"Heather Lende has the voice of that friend down the street you love to chat with over coffee—the one who knows everything going on in town, but also knows the difference between gossip and storytelling."
—Tom Kizza, New York Times-bestselling author of Pilgrim's Wilderness and The Wake of the Unseen Object

"Heather Lende's brave, big-hearted book about her run for local office fairly bursts with affection for her place and its people.  By the end you'll be torn between wanting to move to Haines, Alaska, and wanting Heather to take the helm of your hometown."
—Melody Warnick, author of This Is Where You Belong
 
"An uplifting reminder that democracy works in America. While its setting is an extraordinary landscape of mountains, glaciers and the waters of Lynn Canal, the political scene and the cast of characters Lende captures will find resonance in every corner of America."
—Bruce Botelho, former Mayor of Juneau, Alaska

"This book is a fine story—many beautifully-woven stories, in fact, told with compassion, wisdom and wit—about democracy, community and decency in small-town America, and how to save the best of who we are. It's medicine for the soul. I vote for Heather Lende."
—Kim Heacox, author of John Muir and the Ice that Started a Fire

"Heather Lende has captured the essence of small-town governing in a community as politically divided as our nation is today. She reminds us that public service is hard, but also meaningful."
—Fran Ulmer, former Lieutenant Governor of Alaska