Our Wild Calling: How Connecting with Animals Can Transform Our Lives—and Save Theirs (Hardcover)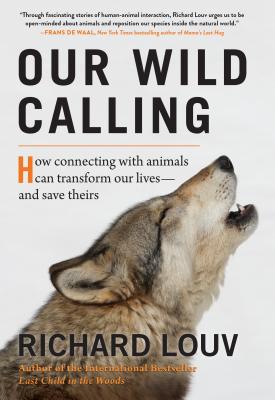 Description
---
"A book that offers hope." 
—The New York Times Book Review

"Richard Louv has done it again. A remarkable book that will help everyone break away from their fixed gaze at the screens that dominate our lives and remember instead that we are animals in a world of animals." —Bill McKibben, author of Falter
 
Richard Louv's landmark book, Last Child in the Woods, inspired an international movement to connect children and nature. Now Louv redefines the future of human-animal coexistence. Our Wild Calling explores these powerful and mysterious bonds and how they can transform our mental, physical, and spiritual lives, serve as an antidote to the growing epidemic of human loneliness, and help us tap into the empathy required to preserve life on Earth. Louv interviews researchers, theologians, wildlife experts, indigenous healers, psychologists, and others to show how people are communicating with animals in ancient and new ways; how dogs can teach children ethical behavior; how animal-assisted therapy may yet transform the mental health field; and what role the human-animal relationship plays in our spiritual health. He reports on wildlife relocation and on how the growing populations of wild species in urban areas are blurring the lines between domestic and wild animals.
 
Our Wild Calling makes the case for protecting, promoting, and creating a sustainable and shared habitat for all creatures—not out of fear, but out of love. Transformative and inspiring, this book points us toward what we all long for in the age of technology: real connection.
About the Author
---
Richard Louv is a journalist and author of ten books, including Last Child in the Woods: Saving Our Children from Nature-Deficit Disorder, The Nature Principle, and Vitamin N. Translated into twenty languages, his books have helped launch an international movement to connect children, families, and communities to nature. He is cofounder and chair emeritus of the nonprofit Children & Nature Network, which supports a new nature movement. Louv has written for the New York Times, Outside magazine, Orion Magazine, Parents, and many other publications. He appears regularly on national radio and TV, and lectures throughout the world. In 2008, he was awarded the Audubon Medal. Prior recipients have included Rachel Carson, E. O. Wilson, President Jimmy Carter, and Sir David Attenborough.
Praise For…
---
"A game-changer."
—Psychology Today

"Louv deftly brings together cutting-edge science, longstanding wisdom and recent discoveries, along with wonder and humor, while never losing sight of the magic that's possible when humans and nonhumans connect. This is a book that offers hope." 
—The New York Times Book Review

"Our Wild Calling is a thoughtful, calm, reasoned book, best read at a chapter-a-day pace, allowing time to think and digest what the author has presented."
—The Associated Press

"A manifesto for a new way of living in the world, the book reveals a natural tapestry too often ignored."
—The Christian Science Monitor

"Impassioned and compelling . . . A thoughtfully researched, poetically inspiring call to action that will resonate with a broad range of readers."
—Kirkus Reviews, starred review

"Louv writes of our need for immersion in nature and of how our interactions with animals can help us to save not only ourselves, but also the planet. In lyrical, sometimes mystical prose, he challenges our assumptions about how we relate to other species."
—Booklist, starred review

"[An] intriguing and poetic treatise . . . Thoughtful and hopeful, Louv's work is a stirring look at 'the blurred lines that have always existed between wild and domestic, human and other than human.' "
—Publishers Weekly

"Looking at scientific research from a variety of experts, this is a compelling call to reestablish ties with the animal world. Strongly recommended for anyone feeling overwhelmed or spiritually bereft in today's society."
—Library Journal

"Richard Louv has done it again. A remarkable book that will help everyone break away from their fixed gaze at the screens that dominate our lives and remember instead that we are animals in a world of animals."
—Bill McKibben, author of Falter: Has the Human Game Begun to Play Itself Out?

"These pages weave a wondrous tapestry in which we all are crucial threads. It's a picture of our own creation, about a future we will share, a future we can strive to make worth living for."
—Carl Safina, author of the New York Times bestseller Beyond Words: What Animals Think and Feel

"We need community with nature and communication with animals more than ever now that so many of us live in urban environments. Through many fascinating stories of human-animal interaction, Richard Louv urges us to be open-minded about animals and reposition our species inside the natural world."
—Frans de Waal, author of Mama's Last Hug: Animal Emotions and What They Tell Us about Ourselves
 
"I wish I had written this book! In this deep exploration, Louv celebrates our essential connections to animals—in the wild, in the city, in our dreams, in our hearts."
—Jennifer S. Holland, author of the New York Times bestselling Unlikely Friendships series
 
"Not just a brilliant, wise, and eloquent book, but a powerful summons to reconnect with the life all around us. Reconnecting with animals is a remedy for much of what ails modern life including loneliness and boredom."
—David W. Orr, Paul Sears Distinguished Professor Emeritus, Oberlin College
 
"Powerful. A must-read for everyone who is concerned with the ways in which human animals are becoming increasingly alienated from nonhuman animals, with devastating results for all involved."  
—Marc Bekoff, author of Rewilding Our Hearts
 
"The timing for Our Wild Calling could not be better. Louv suggests that humans who have strong relationships with animals help their own mental health as well as possibly saving life on earth. This book is incredibly important to our future on this planet."
—Robert Bateman, artist, naturalist, and author of Robert Bateman's Canada
 
"Richard Louv continues to connect all of us to nature through his new book . . . A great read for all!" 
—Fran P. Mainella, 16th Director of the U.S. National Park Service