Big Fish: A Novel of Mythic Proportions (Paperback)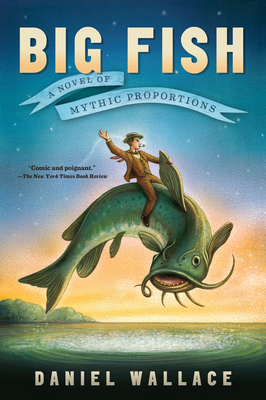 Description
---
The classic novel that inspired the beloved Tim Burton film and the Broadway musical.

In his prime, Edward Bloom was an extraordinary man. He could outrun anybody. He never missed a day of school. He saved lives and tamed giants. Animals loved him, people loved him, women loved him. He knew more jokes than any man alive. At least that's what he told his son, William. But now Edward Bloom is dying, and William wants desperately to know the truth about his elusive father—this indefatigable teller of tall tales—before it's too late. So, using the few facts he knows, William re-creates Edward's life in a series of legends and myths, through which he begins to understand his father's great feats, and his great failings. The result is hilarious and wrenching, tender and outrageous.
About the Author
---
Daniel Wallace has published stories in numerous magazines, including Story, Glimmer Train, Prairie Schooner, and Shenandoah. His first novel, Big Fish, was translated into German, Spanish, Italian, Japanese, and Chinese. Raised in Birmingham, Alabama, Daniel Wallace now lives with his son, Henry, in Chapel Hill, North Carolina, where he also works as an illustrator.
Praise For…
---
"A charming whopper of a tale." —The San Diego Union-Tribune

"Both comic and poignant." —The New York Times

"Refreshing, original . . . Wallace mixes the mundane and the mythical. His chapters have the transformative quality of fable and fairy tale." —Publishers Weekly, starred review
"A comic novel about death, about the mysteries of parents and the redemptive power of storytelling." —USA Today
"An audacious, highly original debut novel . . . An imaginative, and moving, record of a son's love for a charming, unknowable father." —Kirkus Reviews