The Crypt Thief: A Hugo Marston Novel (Paperback)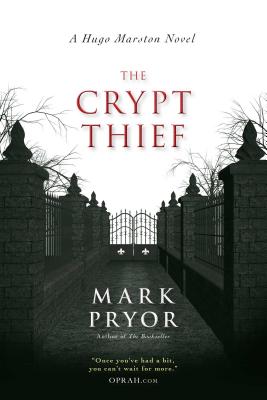 $18.95

Usually Ships in 1-5 Days
Other Books in Series
This is book number 2 in the Hugo Marston series.
Description
---
It's summer in Paris and two tourists have been murdered in Père Lachaise cemetery in front of Jim Morrison's grave. The cemetery is locked down and put under surveillance, but the killer returns, flitting in and out like a ghost, and breaks into the crypt of a long-dead Moulin Rouge dancer. In a bizarre twist, he disappears under the cover of night with part of her skeleton. One of the dead tourists is an American and the other is a woman linked to a suspected terrorist; so the US ambassador sends his best man and the embassy's head of security—Hugo Marston—to help the French police with their investigation. When the thief breaks into another crypt at a different cemetery, stealing bones from a second famed dancer, Hugo is stumped. How does this killer operate unseen? And why is he stealing the bones of once-famous can-can girls? Hugo cracks the secrets of the graveyards but soon realizes that old bones aren't all this killer wants. . . .
About the Author
---
Mark Pryor (Austin, TX) is the author of The Bookseller and The Crypt Thief, the first two Hugo Marston novels, and the true-crime book As She Lay Sleeping. An assistant district attorney with the Travis County District Attorney's Office, in Austin, Texas, he is the creator of the true-crime blog DAConfidential. He has appeared on CBS News's 48 Hours and Discovery Channel's Discovery ID: Cold Blood. Visit him online at www.markpryorbooks.com, www.facebook.com/pages/Mark-Pryor-Author, and http://DAConfidential.com.
Praise For…
---
"[G]ood character development, increasing levels of action and suspense, a complex and deranged antagonist, and—once again—appealing Paris settings. The Hugo Marston series now belongs on every espionage fan's watch list."
—Booklist

"Haunting imagery in Père La Chaise cemetery sets the stage for Pryor's chilling sophomore entry, and the City of Light becomes a backdrop for Marston's adventures. The clever antagonist leads him on a merry chase that will keep the reader entertained throughout."
—RT Book Reviews

"Two young lovers make the fatal mistake of sneaking into Paris's Père Lachaise Cemetery the same night as a bone-stealing psychopath in Pryor's propulsive second novel starring affable former FBI profiler Hugo Marston…. The engaging characters sweep readers into a suspenseful chase from Pigalle to the Pyrenées."
—Publishers Weekly 

"An eerily good read. Pryor has crafted another chilling, complex, and compelling story. Don't start it if you need a good night's sleep!"
—Allison Leotta, author of Speak of the Devil

"A complex puzzle, genuine suspense, and a compelling protagonist—what more can any reader ask for? Oh yeah, a great location: Paris. I'm sold."
—Michael Robotham, author of Say You're Sorry

"Pryor's second case for Marston (after The Bookseller) doesn't disappoint. The crazed serial killer leads readers into the darkest regions of Paris, making it a good bet for Cara Black fans."
-Library Journal
 
"Has an imaginative plot and a strong sense of place... well written."
-New York Journal of Books
 
"When a debut book is as strong as the first Hugo Marston mystery, The Bookseller, one always wonders whether the sophomore attempt will live up to that high mark. In this case, with The Crypt Thief, Pryor has proven that his first success was not a fluke. He brings both the seedier side and the diplomatic halls of Paris to life every bit as successfully as he did in the first Hugo Marston book.... [Pryor's] descriptive language is beautiful. Equally fine is the manner in which each character emerges as a fully realized individual."
-Reviewing the Evidence
 
 "There's no shortage of excitement in this second Hugo Marston mystery-thriller, set in modern day Paris. So strap in, it's going to be a ride you won't forget."
-The Big Thrill
 
"Author Pryor uses this truly creepy scenario to create a nail-biter of a novel. It has enough bizarre twists to keep you reading into the night. The setting in the famous Paris cemetery gives the story just enough of a sense of the exotic to pull the reader in, and to anticipate something far different from a run of the mill mystery. The Crypt Thief leads us on the trail of a cold-blooded killer to a truly fiery conclusion."
-Suspense Magazine