The Secret Team: The CIA and Its Allies in Control of the United States and the World (Paperback)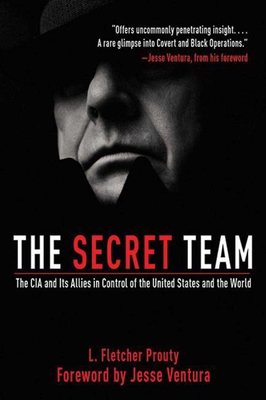 $16.95

Usually Ships in 1-5 Days
Description
---
"Offers uncommonly penetrating insight.…A rare glimpse into Covert and Black Operations.—New York Times Bestselling author, Governor Jesse Ventura, from his Foreword.
The Secret Team
, L. Fletcher Prouty's expose´ of the CIA's brutal methods of maintaining national security during the Cold War, was first published in the 1970s. However, virtually all copies of the book disappeared upon distribution, having been purchased en masse by shady "private buyers." Prouty's topics include:
President Kennedy tried to control the CIA.
The nature of clandestine operations.
The Dulles-Jackson-Correa Report in action
Defense, containment, and anti-communism
Khrushchev's Challenge: the U-2 dilemma
From the Bay of Pigs to Dallas.
And much more!
Prouty's allegations—such as how the U-2 Crisis of 1960 was fixed to sabotage Eisenhower–Khrushchev talk—cannot have pleased the CIA.
The Secret Team
appears once more with a new introduction by bestselling author, Governor Jesse Ventura.
"Like it or not, we now live in a new age of 'One World.' This is the age of global companies, of global communications and transport, of global food supply and finance and . . . just around the corner . . . global accommodation of political systems. In this sense, there are no home markets, no isolated markets and no markets outside the global network. It is time to face the fact that true national sovereignty no longer exists. We live in a world of big business, big lawyers, big bankers, even bigger moneymen and big politicians. It is the world of The Secret Team."
About the Author
---
Jesse Ventura is the former independent governor of Minnesota. He is also a former US Navy frogman, a professional wrestler, a movie actor, a visiting fellow at Harvard Kennedy School of Government, and the New York Times bestselling author of seven books, including American Conspiracies, 63 Documents the Government Doesn't Want You to Read, and Don't Start the Revolution Without Me! He was the host and executive producer of truTV's Conspiracy Theory with Jesse Ventura, which won the Stony Award from High Times magazine in 2010. He was also the host of the political talk show Off The Grid, which aired on RT America and online at Ora.tv. He has a reputation as a rebel and a freethinker, and he has no qualms about questioning authority. He spends half the year in Baja, Mexico and the other half in his home state of Minnesota.