The Runner's Kitchen: 100 Stamina-Building, Energy-Boosting Recipes, with Meal Plans to Maximize Your (Paperback)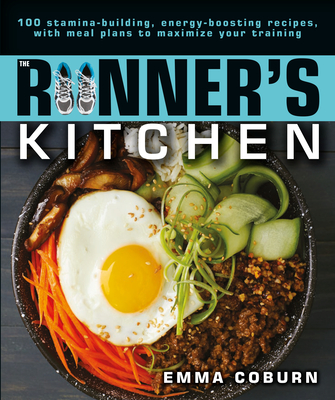 Description
---
Whether you're training for your first 6-mile run or preparing for your latest marathon, this sports nutrition guide will help you achieve your running goals!

Get ready to power your runs with delicious recipes brought to you by Olympian Emma Coburn. 
Packed with nutritious, wholesome meals that will sustain you through the toughest workouts, The Runner's Kitchen is the ultimate cookbook for runners!

With power to every page, dive right in to discover:
- 100 satisfying recipes from Emma's kitchen complete with handy nutritional information
- 7-day meal plans for peak training, race week, and recovery
- Insights into Emma's personal nutrition philosophy and training schedule

This cookbook is packed with mouthwatering recipes for runners incorporating breakfast, lunch, and dinner, plus snacks and sweet treats, featuring the necessary nutritional information to keep you right on track. From everything bagels and naan flatbread to protein-packed chocolate mousse and cinnamon cookies, this flavor-forward cookbook proves that food can be delicious and nourishing at the same time.

The Runner's Kitchen shows you that fueling for performance doesn't have to mean flavorless foods.
Instead, it's all about finding a balance that allows you to provide your body with the fuel it needs to perform and recover while still enjoying the foods you love.

Serious running requires serious fuel!

In fact, how you fuel is just as important as how you train to reach your full potential as an athlete. 
From getting the right nutrients to help boost your performance to recovery-friendly recipes, this runner's recipe book will equip you with all the information you need to get the most from your training. It's the perfect fitness gift for runners and athletes alike.

Fancy getting fitter this New Year? This must-have volume is equipped with tons of tips and tricks to get you on the right track with your running, and help you stay there!

On your mark, get set, go!
About the Author
---
Emma Coburn is a professional track and field athlete and a two-time Olympian (2012, 2016) competing in the 3,000-meter steeplechase. She is an eight-time U.S. Champion and three-time global medalist. Emma is passionate about food and cooking and loves sharing meals with her family and teammates. Emma was born and raised in Colorado and lives with her husband in Boulder.