Love Your Gut: Supercharge Your Digestive Health and Transform Your Well-Being from the Inside Out (Paperback)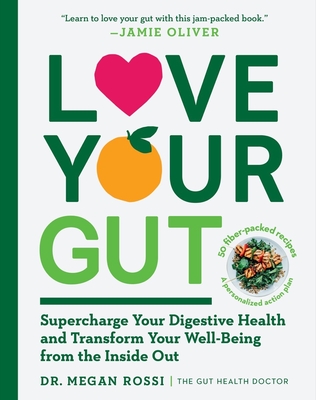 $24.95

Usually Ships in 1-5 Days
Description
---
Support your immunity and fuel your metabolism with this revolutionary guide to gut health, including 50 fiber-packed recipes to nourish your microbiome—from the award-winning Gut Health Doctor (@TheGutHealthDoctor) and author of the forthcoming How to Eat More Plants
Publisher's Note:
Love Your Gut
was previously published in the UK under the title
Eat Yourself Healthy.
The path to health and happiness is inside you—literally. It's your gut! When you eat well, you feed the helpful gut microbes that nourish your metabolism, your immunity, and even your mood. But your microbiome is as unique as you are, so how to eat well varies from person to person. There's more to it than one‑size-fits-all advice like "Take probiotics" and "Eat more fermented foods"—in
Love Your Gut,
Dr. Megan Rossi cuts through the noise. You'll learn what your gut actually needs, how it works, and, most importantly, what to do when it's not loving you back.
Gauge your gut health with 11 interactive questionnaires: How happy is your microbiome? Could you have a hidden food intolerance? Are your fruit and veggie choices stuck in a rut? You'll answer these questions and many more!
Craft a personal action plan and treat common problems: Learn to manage IBS, bloating, constipation, heartburn, SIBO, and stress—with evidence-based diet strategies, gut-directed yoga flows, sleep hygiene protocols, bowel massage techniques, and more.
Enjoy 50 plant-forward, fiber-filled recipes, including Banana, Fig, and Zucchini Breakfast Loaf, Sautéed Brussels Sprouts and Broccolini with Pesto and Wild Rice, Prebiotic Chocolate Bark, and more!
Get ready to discover your happiest, healthiest self. Love your gut!
About the Author
---
MEGAN ROSSI, PhD, RD, The Gut Health Doctor, is one of the most influential gut health specialists internationally. A practicing dietitian and nutritionist with an award-winning PhD in gut health, she is also a leading research fellow at King's College London, where she is currently investigating nutrition-based therapies in gut health, including pre- and probiotics, dietary fibers, plant-based diversity, the low-FODMAP diet, and food additives. She is also the founder of The Gut Health Clinic, where she leads a team of gut-specialist dietitians who see clients all over the world. She is a Daily Mail contributing columnist, a two-time instant Sunday Times–bestselling author, and one of Business Insider's Top 100 Coolest People in Food & Drink. She lives in London, England.
Praise For…
---
"Learn to love your gut with this jam-packed book."—Jamie Oliver

"Dr. Rossi, a well-recognized dietitian and nutritionist, has done a remarkable job of distilling our knowledge base of the role of diet in IBS. With this guidance, individuals suffering from IBS will now have a toolkit to self-manage their symptoms, and also know when to go for additional help if needed."—Douglas A. Drossman MD, Professor Emeritus of Medicine and Psychiatry at the University of North Carolina and President, Rome Foundation

"I've learned so much from Megan—looking after my gut is now a priority and I feel so good for it. She's a huge inspiration to us."—Ella Mills, author and founder of Deliciously Ella

"In the crowded field of wellness and nutrition, packed with some who are flogging overpriced nonsense to the gullible and desperate, Rossi is that most welcome of things: someone who knows what she's talking about."—The Times (UK)