Juice + Nourish: 100 Refreshing Juices and Smoothies to Promote Health, Energy, and Beauty (Hardcover)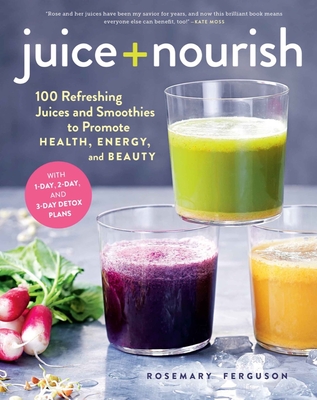 Description
---
Simple, inspired recipes to cleanse, heal, and revitalize—plus realistic detox plans and expert guidance on eating for good health
"Busy" is a way of life for Rosemary Ferguson: She's traveled the world as one of Britain's top models, and today is a professional nutritionist and mother of three. For her, juices and smoothies are anything but a fad—they're a way to pack vital nutrients into your day.
By upping your intake of simple, natural ingredients like blueberries, ginger, and kale, you can overhaul your health from the inside out! As Rosemary discovered, "skin complaints, headaches, fatigue, and stress can be dramatically improved." Handily arranged by need, the recipes in
Juice + Nourish
will help anyone:
Detox & Heal (rehydration, liver cleansers, gut health)
Rest & De-stress (mood boosters, sleep aids, stress relievers)
Care & Preserve (anti-aging, healthy skin and hair, weight loss)
Protect & Strengthen (immunity boosters, cold and cough soothers, anti-inflammatories), and more!
About the Author
---
Former model Rosemary Ferguson is a qualified naturopath who runs her own clinic on London's Harley Street. She also writes for publications such as Vogue (UK) and Beauty Papers. Ferguson is a health-food champion who believes that what we put into our bodies should be both delicious and packed with goodness. She lives in the UK with her husband and three daughters.
Praise For…
---
"Drink up and feel better."—Redbook

"Model turned nutritionist Rosemary Ferguson is changing the juicing game."—Vogue.com

"Rose and her juices have been my savior for years and now this brilliant book means everyone else can benefit, too."—Kate Moss

"Rose's health always shines from the inside out."—Stella McCartney

"Rosemary inspires us to heal, strengthen, and balance our health and our lives with every one of her deliciously nutritious recipes and her simple approach to leading a better life."
—Calgary Avansino,Vogue (UK)

"Rose is the epitome of beauty and health. Her Tumeric Dream is my favorite of the juices. It really reboots my system."
—Sam Taylor-Wood, English filmmaker (50 Shades of Grey), photographer, and visual artist

"Rose has a wonderful imagination for juices, smoothies, and raw food. She has a wealth of knowledge in nutrition, health, and holistic matters, meaning that she is one of the first people I always turn to for advice. I absolutely love the book!"
—Sadie Frost, English actress and fashion designer

"I love Rose's practical and un-sanctimonious approach to being healthy. She clearly has real expertise, which she employs with a light touch and a playful approach
—the Well Man juice is a no brainer. Rose is a testament to her way of living, looking more girlish and radiant as she gets older. Anyone who can look as fresh faced after a party must be doing something right."
—Bella Freud, English fashion designer

Included in "The best juicing books and recipes for 2015" in Psychologies magazine (UK)