Chuck Jones: The Dream that Never Was (Hardcover)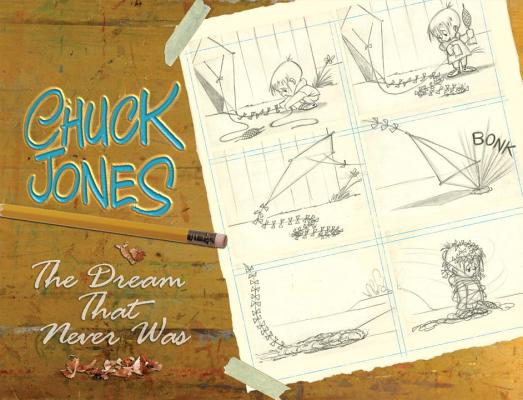 $49.99
Email or call for price
Description
---
We all harbor a secret wish that we could find a previously unseen project by one of the greatest figures in animation history. Well, wish no more — celebrating the 2012 centennial of Chuck Jones's birth, IDW's Library of American Comics unveils Chuck Jones: The Dream That Never Was!

The Academy Award-winning director of "Duck Amuck," "What's Opera, Doc," "How The Grinch Stole Christmas," and other timeless classics, created dozens of cartoon characters throughout his decades-long career: Pepé Le Pew, Marvin the Martian, Road Runner and Wile E. Coyote…and Crawford, an accident prone, nine-year-old boy whose daily routine includes surviving his own boyhood.

Chuck Jones: The Dream That Never Was follows the twenty-seven year journey it took Jones to bring Crawford to the public, from conception to storyboard to newspaper strip. This incredible volume is loaded with never-before-seen sketches, drawings, storyboards, and production notes, and the six-month run of the Crawford newspaper comic strip from 1978. Accompanying the artwork is a biography of Chuck Jones's career in the sixties and seventies and how it influenced the creation of Chuck's only foray into the world of comic strips.

Produced with the full coöperation of the Chuck Jones family, the book was conceived by Kurtis Findlay, who says, "My first surprise when I started researching the Crawford comic strip was how little people knew about it. My second surprise was the treasure trove of Chuck Jones art we would find. Crawford just kept popping up in places I didn't expect, making the history of this little-known character incredibly rich."

Animation Magazine calls Chuck Jones: The Dream that Never Was one of the "10 Essential Books for Animation Students."
About the Author
---
Born on September 21, 1912 in Spokane, Washington, Chuck Jones grew up in Hollywood where he observed the talents of Charlie Chaplin and Buster Keaton and worked occasionally as a child extra in Mack Sennett comedies. After graduating from Chouinard Art Institute in Los Angeles (now California Institute of the Arts) Jones drew pencil portraits for a dollar a piece on Olvera Street. Then, in 1932, he got his first job in the fledgling animation industry as a cel washer for former Disney animator, Ub Iwerks. In 1936 Jones was hired by Friz Freleng as an animator for the Leon Schlesinger Studio.

He directed his first film, , in 1937. He was a key part of Warner Bros. animation studio from the 1940s until the studio closed in 1962 in what all critics consider the Golden Age of Animation. He then moved to MGM Studios and established his own production company, Chuck Jones Enterprises, thrilling new generations of fans.