Keeping Love Alive as Memories Fade: The 5 Love Languages and the Alzheimer's Journey (CD-Audio)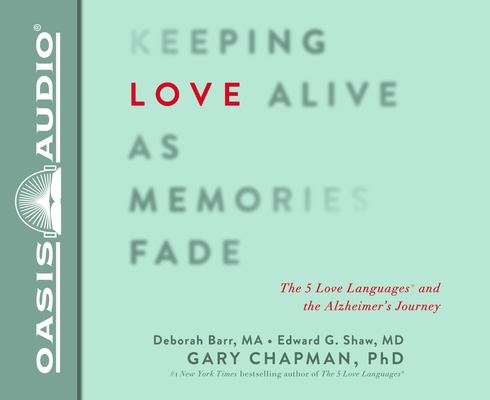 $19.99
Email or call for price
Description
---
If you're listening to this, you may have a loved one suffering from dementia, and you're looking for hope. The disease has already taken so much, and though you're determined to fight, you're weary. Keeping Love Alive as Memories Fade will renew your strength. With guidance from professionals and stories of committed caregivers, you'll learn how others have braved the road ahead, and how you can too. Using the five love languages and other creative ideas, you can discover, like many others, the resilient power of love.
About the Author
---
Gary Chapman, an author, speaker, and counselor, has a passion for helping people form lasting relationships. He is the bestselling author of The 5 Love Languages® series and the director of Marriage and Family Life Consultants, Inc. Gary travels the world presenting seminars, and his radio programs air on more than four hundred stations. For more information, visit 5lovelanguages.com.

Edward G. Shaw is dually trained as a physician and a mental health counselor. He is the primary care partner for his wife, Rebecca, who was diagnosed with early-onset Alzheimer's disease at age 53. Inspired by Rebecca's journey, he founded the Memory Counseling Program that is now part of Wake Forest Baptist Health in Winston-Salem, North Carolina.

Deborah Barr is a writer, speaker, and health educator. A master certified health education specialist, she also has a bachelor's degree in journalism (Penn State) and a master's degree in health education and promotion (East Carolina University). An experienced wellness writer and speaker, Deborah volunteers as a community educator for the Western Carolina chapter of the Alzheimer's Association. Like Drs. Chapman and Shaw, she lives in Winston-Salem, North Carolina.