Winning in China: 8 Stories of Success and Failure in the World's Largest Economy (Hardcover)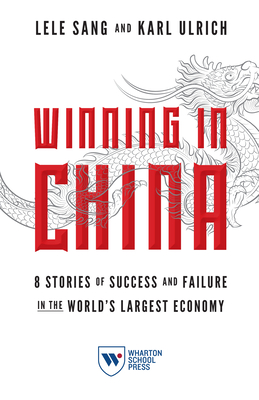 for information about purchasing this book, please contact orders@bookpassage.com
Description
---
If Amazon can't win in China, can anyone?
When Amazon CEO Jeff Bezos visited China in 2007, he expected that one day soon China would be a double-digit percentage of Amazon's sales. Yet, by 2019, Amazon, the most powerful and successful ecommerce company in the world, had quit China. In
Winning in China: 8 Stories of Success and Failure in the World's Largest Economy
, Wharton experts
Lele Sang
and
Karl Ulrich
explore the success and failure of several well-known companies, including
Hyundai
,
LinkedIn
,
Sequoia Capital
, and
InMobi
, as more and more businesses look to reap profits from the demand of 1.4 billion people. Sang, Global Fellow at the Wharton School of the University of Pennsylvania, and Ulrich, Vice Dean of Entrepreneurship and Innovation at the Wharton School, answer four critical questions: Which factors explain the success (or failure) of foreign companies entering China?What challenges and pitfalls can a company entering China expect to encounter? How can a prospective entrant realistically assess its chances? Which managerial decisions are critical, and which approaches are most effective? Sang and Ulrich answer these questions by examining the stories of eight well-known and respected companies that have entered China. They study: How
Norwegian Cruise Line's
entry into China displays how cultural differences can boost or sink different companies; How
Intel
, one of the oldest, most respected firms in Silicon Valley, thrived in a country that seems to favor agile upstarts; How
Zegna
, the Italian luxury brand, has emerged as another surprising success story and how it plans to navigate new headwinds from the COVID-19 pandemic.Through these engaging and illuminating stories, Sang and Ulrich offer a framework and path for organizations looking for a way to successfully enter the world's largest economy. History can be a teacher, and China, a country with 3,500 years of written history, has much to teach.
About the Author
---
Lele Sang is Global Fellow at the Wharton School of the University of Pennsylvania. A former journalist and editor, she has worked for the Beijing News and Caijing Magazine covering business and politics. She was also a visiting scholar at UC Berkeley, Graduate School of Journalism. She holds an MPA degree from the University of Pennsylvania.Karl T. Ulrich is Vice Dean of Entrepreneurship and Innovation and the CIBC Professor of Entrepreneurship and e-Commerce at the Wharton School of the University of Pennsylvania. His recent work focuses on innovation strategy, with a particular emphasis on innovation in China. He is the co-author of Product Design and Development (7th Edition, McGraw-Hill, 2019) and of Innovation Tournaments (Harvard Business Press, 2009). Ulrich holds bachelor's, master's, and doctoral degrees in mechanical engineering from MIT.