The Official Guide to Success (Paperback)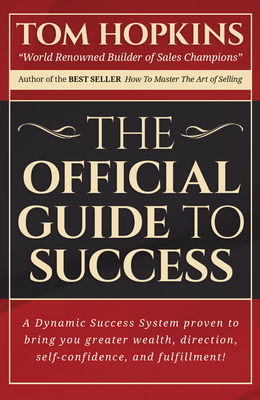 $17.95

Usually Ships in 1-5 Days
Description
---
The Official Guide to Success is a dynamic success system proven to bring you greater wealth, direction, self-confidence, and fulfillment This book is packed with Motivation and Inspiration from Tom Hopkins... developed during his record-breaking sales career. Overcome emotional handicaps and break free from the past through Tom's variety of topics packed with dynamite success secrets
In The Official Guide to Success you will discover:
Why it makes more sense to work smarter and not harder
How to use what Tom calls "self-instructions" to gain control over situations in your life
How to "find yourself" and win through a special life-planning technique
Strategies for training your subconscious mind for heavy problem solving
The three basic steps to wealth
Plus much more
Using Tom's Explosive Success Secrets you will find yourself blasting through roadblocks, re-wiring bad habits, and unleashing your inner genius. After you read this book you will be a different person. You'll think differently and because of having better, stronger thought processes you'll act differently.
Success. It's something we all wish for. But for many, success eludes them. For others, it seems to fall into their laps. Are some people just luckier than others? No. Success is by design. And probably the best person you could learn the secrets to success from is a salesperson who once struggled, but figured out the answers for himself.
A salesperson's income, be it big or small, is based on his or her mindset. Daily, the salesperson must enter the lion's den of business to convince total strangers to exchange their money for goods and services. And daily, the salesperson must overcome his or her fears and the punishing sting of rejection. Winners take all in this field. The most accomplished earn staggering incomes, develop rewarding networks of friends, and live the American dream.
This message isn't about learning how to sell. No it's about discovering Tom Hopkins' decades worth of hard-won success secrets to create your ideal life with unlimited opportunities for more fun and advancement
About the Author
---
Tom Hopkins was a millionaire by the time he was twenty-seven. He began his career as a real estate agent (failing miserably and earning $42 a month). After investing his last few dollars in a sales training seminar, Tom quickly rose to the nation's number one sales position--setting records that still stand today. Believing sales people are made, not born, Tom has dedicated his professional life to training and inspiring people to achieve their highest potential.