Tareeqat: 7 Elements of Living Sufism in Pakistan (Paperback)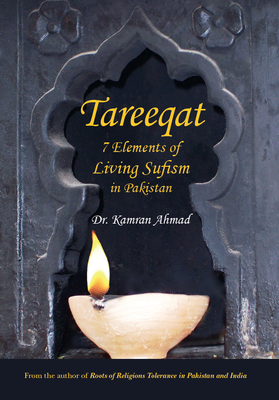 $19.95
Email or call for price
Description
---
Sufism has become a lush spiritual experience in the everyday lives of millions the world over. For centuries, Sufism has evolved to form an integral path through the essence of life. Especially for the people of Pakistan, Sufism winds like a cool mystical stream nurturing a parched landscape. No one knows this better than Kamran Ahmad, Ph.D., scholar of Religion and Psychology in the United States and his native Pakistan.
Yet today messages to Sufis abound from all sides - messages saying what religious life should look like, proposing that Sufis cast aside these deeply held beliefs. Those who would impose religious ideals on others don't seem to grasp the powerful spiritual roots in our daily life that run deeper than anything that can be prescribed. What's more, we may need to be reminded of these deep roots ourselves.
In his landmark work Tareeqat, Dr. Kamran Ahmad peels back the veil to reveal this rich inner life in all its suppleness and strength. He bravely takes on critics who would leave secrets of the heart and soul untouched, unspoken. Tareeqat offers a spiritual richness that defies description and will leave you breathless.
Dr. Ahmad maintains that the Sufi connection to spiritual essence remains an unspoken, unwritten truth. In Tareeqat, you will discover that a paradox has taken hold of the South Asian region, one that keeps us tacitly quiet about what matters most. In an unspoken language, the dictate decrees that matters of the spirit, secrets of the spirit, and secrets of the heart are taboo topics. They're not to be talked about, written about or argued about. They are to be experienced. They are to be lived as part of everyday life, much as a haunting melody weaves its magic in and out of consciousness.
When you read Tareeqat, you will discover how strong and deep the spirit runs in our everyday lives and relationships. As you do, you will clearly see the path to recognize it for what it is, embrace it with love, live it with pride, in its eternal flow, in its ever-changing forms. You will gain the courage to see the richness of Sufism for all that it is, all it can be. And you will never look at life same way again.
About the Author
---
Kamran Ahmad has a Ph.D. in South Asian Spirituality in addition to other degrees in various disciplines from the USA, and he has taught both Religion and Psychology at universities in the USA and Pakistan. Beyond academic settings, however, he has travelled around the world over the last three decades, exploring various spiritual traditions, including several Sufi Orders. He is therefore able to pull out the essential elements of spirituality that underlie the different forms, and identify them in the everyday life of Pakistan. He has also been involved with the civil society of Pakistan over the years and has been working as a Clinical Psychologist with the International Civil Services for the past decade.