The Case of the Baited Hook: A Perry Mason Mystery (Paperback)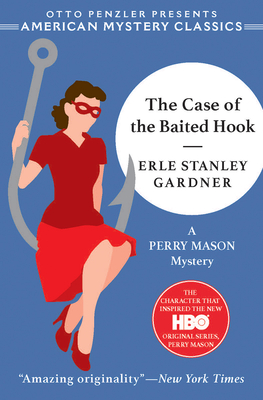 Description
---
In one of Perry Mason's most memorable cases ever, the character who inspired the HBO limited series risks his freedom to prove the innocence of an unidentified client.
The bait is half of a $10,000 bill, delivered to Perry Mason by a man who promises the second half of the note should his companion, a silent masked woman, ever require the lawyer's services. When a dead body is discovered soon after, Mason feels the hook—but how can one prove the innocence of a person whose identity is unknown? 
Suspecting that he's been set-up, but curious nonetheless, Perry sets out to solve the mystery from the ground up, beginning with the face behind the veil. The more he learns, the more complex his investigation becomes. Uncovering a convoluted case of stock fraud, divorce, and inheritance, Mason's nearly left reeling—that is until, with the help of Della Street and Paul Drake, he pulls off one of his most daring gambits ever to finally cast light on the killer.
Filled with memorable characters, a multitude of motives, and just a few red herrings, The Case of the Baited Hook is classic Perry Mason, showcasing the character's brilliance and pizazz with a plot that pushes his powers into overdrive. As puzzling as it is entertaining, the book exemplifies the style that made Erle Stanley Gardner one of the most popular authors of the twentieth century.
"Millions of Americans never seem to tire of Gardner's thrillers." —The New York Times
DON'T MISS THE NEW HBO ORIGINAL SERIES PERRY MASON, BASED ON CHARACTERS FROM ERLE STANLEY GARDNER'S NOVELS, STARRING EMMY AWARD WINNER MATTHEW RHYS
About the Author
---
Erle Stanley Gardner (1889-1970) was the best-selling American author of the 20th century, mainly due to the enormous success of his Perry Mason series, which numbered more than 80 novels and inspired a half-dozen motion pictures, radio programs, and a long-running television series that starred Raymond Burr. Having begun his career as a pulp writer, Gardner brought a hard-boiled style and sensibility to the early Mason books, but gradually developed into a more classic detective story novelist, showing enough clues to allow the astute reader to solve the mystery. For more than a quarter of a century he wrote more than a million words a year under his own name and numerous pseudonyms, the most famous being A.A. Fair.

Otto Penzler, the creator of American Mystery Classics, is also the founder of the Mysterious Press (1975); Mysterious Press.com (2011), an electronic-book publishing company; and New York City's Mysterious Bookshop (1979). He has won a Raven, the Ellery Queen Award, two Edgars (for the Encyclopedia of Mystery and Detection, 1977, and The Lineup, 2010), and lifetime achievement awards from Noircon and The Strand Magazine. He has edited more than 70 anthologies and written extensively about mystery fiction.
Praise For…
---
Amazing originality.
— New York Times

A good starting point for those new to Gardner's celebrated attorney.
— Publishers Weekly

With Perry Mason, Erle Stanley Gardner introduced to American letters the notion of the lawyer as a hero?and detective?which were remarkable innovations. He even gave defense lawyers a good name to boot. His Mason books remain tantalizing on every page and brilliant.
— Scott Turow