Cults That Kill: Shocking True Stories of Horror from Psychopathic Leaders, Doomsday Prophets, and Brainwashed Followers to Human Sacri (Paperback)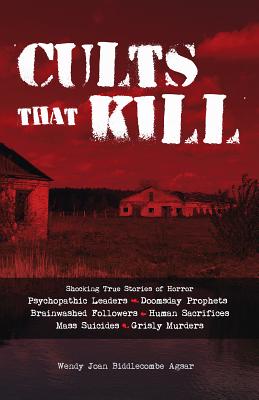 $15.95
Email or call for price
Description
---
What happens when true believers go too far? Thousands of religious, political and self-improvement cults are active around the world, and an estimated 2 to 5 million Americans have been involved in a cult at some point. Not all cults are destructive, but members' unwavering faith in an absolute leader and an intense devotion to a cause often lay the groundwork for criminal acts to take place--even murder and mass suicides. - The Manson Family
Hippie devotees turn violent to manifest God's race war - The Peoples Temple
Hundreds of utopia seekers meet their end in the Guyanese jungle by ingesting a cyanide-laced drink - The Vampire Clan
Teenagers consume blood and bludgeon an unsuspecting Florida couple to death - Heaven's Gate
Nike-adorned disciples commit suicide to transport onto a spaceship approaching - Earth Silvia Meraz Moreno's Santa Muerte
Cult Members collect sacrificial blood by slicing open victims' veins while their hearts are still beating.
About the Author
---
Wendy Joan Biddlecombe Agsar covered crime and courts for the Tampa Tribune in Hernando County, Florida, from 2012-2014. In more recent years, she has served as web editor at Tricycle: The Buddhist Review and as senior reporter at Metro New York. She received a Master of Arts in Journalism and Media studies from the University of South Florida at St. Petersburg. Her thesis, "Framing Terrorism: How the Tampa Tribune and Tampa Bay Times Portrayed Sami Al-Arian in 2001" examined how two major newspapers covered a major terrorism scandal after 9/11. She has a Bachelor of Arts in Writing from the New School. She splits her time between Germany and the United States with her husband, Sam, and their cat, Chicken. This is her first book.