African American Officers in Liberia: A Pestiferous Rotation, 1910–1942 (Paperback)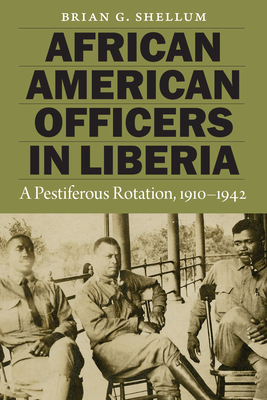 $21.95

Usually Ships in 1-5 Days
Description
---
African American Officers in Liberia tells the story of seventeen African American officers who trained, reorganized, and commanded the Liberian Frontier Force from 1910 to 1942. In this West African country founded by freed black American slaves, African American officers performed their duties as instruments of imperialism for a country that was, at best, ambivalent about having them serve under arms at home and abroad. 

The United States extended its newfound imperial reach and policy of "Dollar Diplomacy" to Liberia, a country it considered a U.S. protectorate. Brian G. Shellum explores U.S. foreign policy toward Liberia and the African American diaspora, while detailing the African American military experience in the first half of the twentieth century. Shellum brings to life the story of the African American officers who carried out a dangerous mission in Liberia for an American government that did not treat them as equal citizens in their homeland, and he provides recognition for their critical role in preserving the independence of Liberia.
 
About the Author
---
Brian G. Shellum is a retired army officer and former historian and intelligence officer with the Department of Defense. He is the author of Black Cadet in a White Bastion: Charles Young at West Point (Nebraska, 2006) and Black Officer in a Buffalo Soldier Regiment: The Military Career of Charles Young (Nebraska, 2010).
Praise For…
---
"I didn't know that for several decades in the early 20th century, the United States Army had a training, advising and leading mission in Liberia. What's more, most of the officers who carried out the mission were black Americans. Brian G. Shellum, a retired Army tank and intelligence officer, does a workmanlike job of relating this neglected tale."—Thomas E. Ricks, 
New York Times Book Review
"
African American Officers in Liberia
is lively true story of black Americans given unusual responsibility at a time when civil rights was barely a dream."—David Luhrssen, 
Shepherd Express
"This book offers a well-written and well-researched account of how seventeen African American officers strove to help Liberia develop an effective defense force. . . . Those interested in black military history will find this volume to be a sad but fascinating read."—Roger D. Cunningham, 
Journal of America's Military Past
"This work should be read by anyone interested in the creation of effective armed forces in corrupt "Third World" countries, and it also throws light on America's quasi-official protectorate in Liberia and the careers of black officers in the segregated army."—Jerry Trombella, 
NYMAS Review
"African American Officers in Liberia should be read by anyone interested in the creation of effective armed forces in corrupt "Third World" countries, and for the light it throws on America's quasi-official protectorate in Liberia as well as on the careers of black officers in the segregated army, two of whom, Young and Davis, were outstanding soldiers."—A. A. Nofi, Strategy Page
"Many of the primary documents Shellum used for this book are unpublished diaries and personal correspondences written by African American officers. These sources have gone otherwise untapped, making this piece a uniquely valuable contribution to both African and African American historiography."—H. Michael Shultz, Jr., 
On Point
"A seminal contribution to military history, presenting the exemplary qualities of leadership, professionalism, and resilience that have relevance today. This book is worth reading by historians and history buffs alike."—Fombah Sirleaf, director of Liberia National Security Agency
"A monumental piece of missing American history. . . . A poignant reminder of how African Americans willingly served 
their
 country steadfastly in extremely challenging and controversial assignments."—Krewasky A. Salter, curator for military history at the Smithsonian Institution, National Museum of African American History and Culture
"Fascinating and extremely important. . . . This work will prove to be an essential reference for anyone who writes, studies, or is otherwise interested in this period of Liberian, military, or African American history."—Charles A. Wash Jr., executive director of the National Afro-American Museum and Cultural Center