Altars to Amputations: From Gettysburg Churches to Battlefield Hospitals: A History and Walking Tour (Paperback)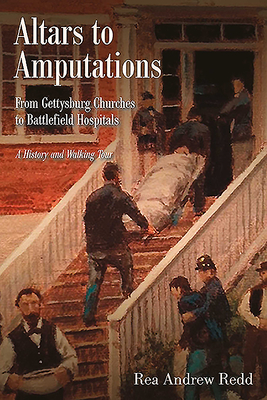 $15.95

Coming Soon - Available for Pre-Order Now
Description
---
Gettysburg's houses of worship, college lecture rooms, and homes witnessed the agony of wounded and dying soldiers and the exhaustion of surgeons and nurses. Rea Andrew Redd's Altars to Amputations: From Gettysburg Churches to Battlefield Hospitals: A History and Walking Tour shares the story of young boys and girls, their parents, Catholic priests and nuns, and Protestant pastors and their congregations who united in one giant effort to save lives with their voluntary service in a public health disaster none could have been imagined before July 1863.

Redd's accessible study is the first of its kind and designed to invite you into a different slice of the Gettysburg story, introducing people and places few if any students know much if anything about. Walk with him through Gettysburg and visit 14 different churches and school buildings, each of which holds unique stories of the lives and experiences of the saviors and sufferers alike.

Meet, for example, the Huber family. Dr. Henry Huber, his wife Priscilla, and their children lived on Chambersburg Street. Their son Frederick, a Federal infantry sergeant, had been killed outside Richmond, Virginia at the Battle of Fair Oaks on May 31, 1862. Dr. Huber made the sad journey to Virginia, retrieved his son's body, and buried him in Gettysburg's Evergreen Cemetery, where a Confederate shell smashed his gravestone. Henry worked as a contract surgeon at the Lutheran Seminary hospital alongside his second son, John, who worked as a nurse.

The mini-tours in Altars to Amputations include street fighting during the Federal retreat through the borough, an examination of the lives of African Americans and their church and cemetery, and women such as Elizabeth Thorn, Virginia Wade, Sally Myers, and the Foster, McCreary, and Buehler families.

Redd, is an authority on the Civil War and the host of Civil War Librarian, a popular blog. This work includes 14 walking tour stops, 22 history notes about the buildings you walk past, and dozens of others about medicine, the battle, the troops, and much more. This is one Gettysburg book that is entertaining, enlightening, and easy to read.