The Working Mom Blueprint: Winning at Parenting Without Losing Yourself (Paperback)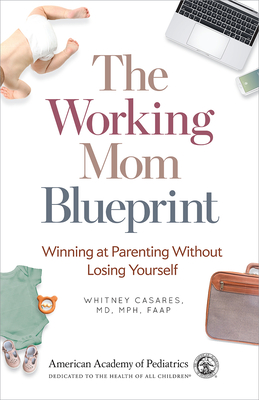 $16.95

Usually Ships in 1-5 Days
Description
---
Learn how to thrive—not just survive—
as a modern mom.

You love your kids. You're proud of your professional accomplishments.
You have hobbies and friends. And you're tired. So tired.

Working moms often feel like they're failing on many different fronts. But
what if there was a guide to reenvisioning, reprioritizing, and restructuring
to build a vibrant, intentional life?

As a practicing pediatrician and mother of 2 young daughters, Dr. Whitney
Casares understands balancing family and career. She shares honest insights
about her own challenges combined with her professional expertise about
children of working moms—they thrive!—to create a reassuring guide to
navigating modern motherhood.

In this practical plan, you'll learn to set priorities, cultivate self-care, establish
an equal parenting partnership, delegate whenever appropriate, and more.
With help from Dr. Casares' advice, it's time to make motherhood joyful again.

About the Author
---
Whitney Casares, MD, MPH, FAAP, is a board-certified, practicing pediatrician, the creator of the popular website modernmommydoc.com, and the author of The New Baby Blueprint: Caring for You and Your Little One. She is the mother of two young daughters and lives in Portland, OR.
Praise For…
---
"Dr Casares' vital message in this warmly reassuring, deeply empathetic book is that when you practice better self-care, you will take better care of everyone—and everything—else. It's filled with practical, actionable tools and tips that even the most sleep-deprived, bleary-eyed working mother can follow." —Jancee Dunn, author of How Not to Hate Your Husband After Kids

"This book is exactly what modern parents need to get to that beautiful balanced space where they can love with every bit of their energy precisely because their tanks are filled in other areas of their lives." —Kenneth R. Ginsburg, MD, MS Ed, FAAP, author of Building Resilience in Children and Teens and Raising Kids to Thrive and director of the Center for Parent and Teen Communication at the Children's Hospital of Philadelphia

"Dr Casares shares timely and topical advice, empowering parents to not only prioritize what is truly important but also to serve as role models for our children to continue tilting the needle towards greater gender equity." —Shelly Vaziri Flais, MD, FAAP, pediatrician and author of Raising Twins, editor in chief of Caring for Your School-Age Child, coeditor of The Big Book of Symptoms, and assistant professor of clinical pediatrics at Northwestern University Feinberg School of Medicine


"Dr Casares conveys a reassuring perspective that not only can we release the pressure but that we must, and walks the reader through a path that feels practical, believable, kind, and wise." —Amy Stoeber, PhD, licensed psychologist and creator of the courses The Art of Imperfect Parenting and The Kids Will Be OK