Censored 2020 (Paperback)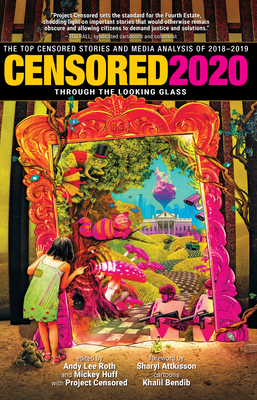 $18.95
Email or call for price
Description
---
In the midst of Trump's attacks on the media, comes this look at the rigorous, independent reporting of the year's most underreported news stories.

While the country's president displays a brazen disregard for the First Amendment and routinely demonizes the press as "the enemy of the people," Censored 2020 looks beyond Donald Trump's dizzying contempt for the truth to clarify the corporate media's complicity in misinforming the American public--while also providing a clear vision of a better future, based on rigorous, trustworthy independent reporting that presents a fuller picture of truth. With a discerning eye, Censored 2020 focuses the public's attention on the most important but underreported news stories of 2018-2019. These stories expose the corporate news media's systemic blind spots while highlighting the crucial role played by independent journalists in providing the kind of news necessary for informed, engaged citizens. The book also examines this year's lowlights in "junk food news" and "news abuse"--further revealing how corporate news often functions as propaganda--as well as highlights of exemplary organizations that champion "Media Democracy in Action." Additional chapters address the importance of constructive journalism, the untold story of Kashmir, news coverage of LGBTQ issues in the Trump era, "fake news" as a Trojan horse for censorship, and online memes as a
form of political communication.
About the Author
---
Mickey Huff is director of Project Censored and serves on the board of the Media Freedom Foundation. To date, he has edited or coedited six volumes of Censored and contributed numerous chapters to these works dating back to 2008. Additionally, he has coauthored several chapters on media and propaganda for other scholarly publications, including Flashpoint in Ukraine from Clarity Press (2014). He is currently a professor of social science and history at Diablo Valley College in the San Francisco Bay Area, where he is co-chair of the history department. Huff is the co-host, with former Project Censored director Dr. Peter Phillips, of The Project Censored Show, a weekly syndicated public affairs program that originates from KPFA Pacifica Radio in Berkeley, California. For the past several years, Huff has served on the national planning committee of Banned Books Week, working with the American Library Association and the National Coalition Against Censorship, of which Project Censored is a member. He is also a longtime musician and composer. He lives with his family in Northern California.

Andy Lee Roth is the associate director of Project Censored, where he coordinates the Project's Validated Independent News program. His research, on topics ranging from ritual to communities organizing for parklands, has been published in journals including the International Journal of Press/Politics; Social Studies of Science; Media, Culture & Society; City & Community; and Sociological Theory. Roth earned a PhD in sociology at the University of California, Los Angeles, and a BA in sociology and anthropology at Haverford College. A native of California, he now lives in Washington State.
Praise For…
---
"Project Censored sets the standard for the Fourth Estate, shedding light on important stories that would otherwise remain obscure and allowing citizens to demand justice and solutions."
—Ted Rall, syndicated cartoonist and columnist


"[Censored] should be affixed to the bulletin boards in every newsroom in America. And, perhaps, read aloud to a few publishers and television executives."
—Ralph Nader


"Project Censored is a lifeline to the world's most urgent and significant stories. The Project's list of the top stories . . . should in fact drive the reporting agendas of every major news outlet."
—Naomi Wolf

"Whereas the mainstream media poke and peck at noteworthy events at single points in time, often devoid of historical context or analysis, Project Censored seeks to clarify understanding of real world issues and focus on what's important. Context is key, and many of its 'top censored' stories highlight deeply entrenched policy issues that require more explanation than a simple sound bite can provide."
—San Francisco Bay Guardian