Natural Histories: Stories (Paperback)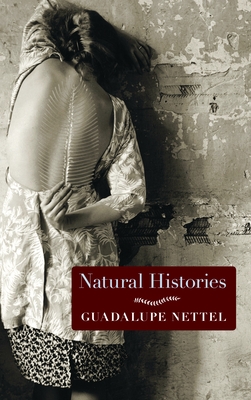 $12.95
Email or call for price
Description
---
Siamese fighting fish, cockroaches, cats, a snake, and a strange fungus all serve here as mirrors that reflect the unconfessable aspects of human nature buried within us. The traits and fates of these animals illuminate such deeply natural, human experiences as the cruelty born of cohabitation, the desire to reproduce and the impulse not to, and the inexplicable connection that can bind, eerily, two beings together. Each Nettel tale creates, with tightly wound narrative tension, a space wherein her characters feel excruciatingly human, exploring how the wounds we incur in life manifest themselves within us, clandestinely, irrevocably, both unseen and overtly.

In a precise writing style that is both subtle and spellbinding, Nettel renders the ordinary unsettling, and the grotesque exquisite. Natural Histories is the winner of the 3rd Ribera del Duero International Award for Short Narratives, an important Spanish literature prize.
About the Author
---
One of the most talked-about writers of contemporary Mexican fiction, GUADALUPE NETTEL is a Bogotá 39 author and Granta "Best Untranslated Writer." Her novels and collections of short stories have received international critical acclaim and won awards in both Europe and Latin America, including the Mexican Gilberto Owen National Literature Prize and the Antonin Artaud Prize. Natural Histories, for which she won the 2013 Ribera del Duero Short Fiction Award, and her novel The Body Where I was Born (Seven Stories Press, 2015) are her first books to be published in English. Nettel lives in Mexico City.
Praise For…
---
"Five flawless stories ... Nettel creates marvelous parallels between the sorrows and follies of her human characters and the creatures they live with." —Carmela Ciuraru, The New York Times

"The gaze [Nettel] turns on madnesses both temperate and destructive, on manias, on deviances, is so sharp that it has us seeing straight into our own obsessions." —Xavier Houssain, Le Monde

"Guadalupe Nettel is one of the most interesting voices of the new Mexican fiction." —J.A. Masoliver Ródenas, La Vanguardia

"Seasoned readers will delight in this literary voice, new to the landscape of Latin American literature, a voice sophisticated as it is original." —Arcadia

"Guadalupe Nettel reveals the subliminal beauty within beings of odd behavior and painstakingly examines the intimacies of her soul." —Magazine Littéraire

"It has been a long time since I've found in the literature of my generation a world as personal and untransferable as that of Guadalupe Nettel." —Juan Gabriel Vásquez

"The career of this young storyteller is worth keeping an eye on. A master of style, with a marvelous poetic naturalism, her ideas and manners distinguish her from what we are accustomed to in Mexican literature." —Joaquin Marco, El Cultural

"Beautifully translated from the Spanish by J. T. Lichtenstein, Natural Histories delivers everything you want from a short story collection. Guadalupe Nettel's storytelling power is majestic. With an unflinching eye, time and time again, she drives readers on an exploratory safari into the heart of human nature. Funny, touching, terrifying, horrific and/or sad-you never know what you'll find when you tentatively set out in search of potential dangers, but one thing is abundantly clear: safe in her skilled hands, each journey holds the promise of being a life changing event." —Typographical Era

"These stories are an interesting, arresting study of how their lives mirror our own." —Gretchen Wagner, San Francisco Book Review

"One that stood out for me in particular among these very good books is Natural Histories by Guadalupe Nettel, translated by J. T. Lichtenstein. Nettel is a wonderful Mexican writer, and each of the stories in this slim collection, published by Seven Stories, takes a wry philosophical look at the relationship between people and the creatures they live with – whether a pair of pet fish or an infestation of cockroaches." —Jonathan Lee, Electronic Literature