Censored 2015: Inspiring We the People; The Top Censored Stories and Media Analysis of 2013- 2014 (Paperback)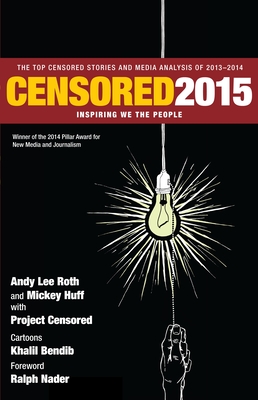 for information about purchasing this book, please contact orders@bookpassage.com
Description
---
Every year since 1976, Project Censored, our nation's oldest news-monitoring group—a university-wide project at Sonoma State University founded by Carl Jensen, directed for many years by Peter Phillips, and now under the leadership of Mickey Huff—has produced a Top-25 list of underreported news stories and a book, Censored, dedicated to the stories that ought to be top features on the nightly news, but that are missing because of media bias and self-censorship.

A perennial favorite of booksellers, teachers, and readers everywhere, Censored is one of the strongest life-signs of our current collective desire to get the news we citizens need--despite what Big Media tells us.
About the Author
---
PROJECT CENSORED, founded in 1976 by Carl Jensen at Sonoma State University, has as its principal objective the advocacy for and protection of First Amendment rights, including freedom of information. In 2008, Project Censored received the PEN/Oakland Literary Censorship Award. Most recently, Project Censored received the 2014 Pillar Award in Journalism and New Media, given annually to persons of conscience, conviction, and achievement who stand up for what's right and what's true in the face of corporate and political intimidation. For more information, visit www.projectcensored.org.
Praise For…
---
"Whereas the mainstream media poke and peck at noteworthy events at single points in time, often devoid of historical context or analysis, Project Censored seeks to clarify understanding of real world issues and focus on what's important. Context is key, and many of its "top censored" stories highlight deeply entrenched policy issues that require more explanation than a simple sound bite can provide." —Joe Fitzgerald Rodriguez, San Francisco Bay Guardian

"Required reading for broadcasters, journalists, and well-informed citizens." –Los Angeles Times