What the Traveler Said: 291 inspiring quotations from the San Francisco Chronicle's Quotable Traveler Column (Paperback)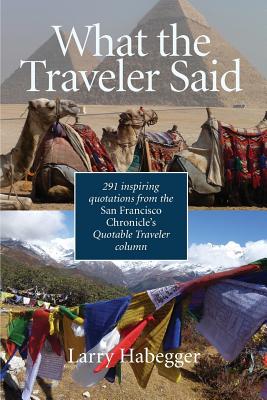 Description
---
Wisdom from the World's Great Travelers
Freelance writer and Travelers' Tales Executive Editor Larry Habegger spent five and a half years compiling quotations from the world's great travelers for The Quotable Traveler, his weekly column in the San Francisco Chronicle. All 291 of these engaging reflections are collected here and are guaranteed to carry you to faraway lands. With these quotes you will travel with:
Lao Tzu in China
Napoleon in Egypt
Mark Twain in France
Freya Stark in Iraq
Alexandra David-Neel in Tibet
Edward Abbey in Arizona
Jan Morris in Italy
and many more.
You'll be moved to reflect on your own journeys and motivated to make new plans as you bask in the wisdom of these eminent travelers.