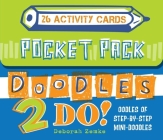 $9.99
Usually Ships in 1-5 Days
Description
---
The format is a tri-fold case that snaps together to form an almost palm-size suitcase (without a handle). When opened and unfolded, there are 3 attached pockets which contain paper for color-coded doodle drawing activities--3 pieces of paper for each activity. Each activity includes: --interesting info about the featured subject matter --drawing instructions --a page to create a mini-doodle masterpiece Doodles 2 Do features number-themed doodles, Alpha-Doodles uses letters to get the drawings started. Kids can turn a 2 into a toucan, a U into an umbrella, and, hey, who knew a K could doodle into a kangaroo.
About the Author
---
Deborah Zemke is the creator and/or illustrator of over 40 children's books, including the hugely successful Doodles at Breakfast-Lunch-Dinner placemats, and "Doodles D is for Doodle," "2 is for Toucan."

Visit her on the web at www.deborahzemke.com The author lives in Columbia, Missouri.