Pause. Breathe. Choose.: Become the CEO of Your Well-Being (Hardcover)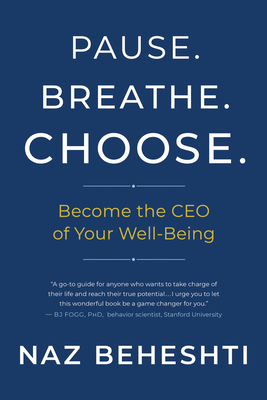 Description
---
A leading-edge guide to how well-being drives success across all aspects of life

CEO, executive wellness coach, and thought leader Naz Beheshti distills the most valuable lessons she learned from her first boss and mentor, Steve Jobs, into a holistic method to live your best life. Presenting the highly effective framework that Beheshti has used with clients for over a decade, this book is a guide for self-discovery, better choices, and purposeful growth.

Now more than ever, when stress and burnout are ubiquitous, we must access our authentic self by closing the gap between leading with our head and our heart. When we integrate every aspect of our life (career, relationships, self-care, and self-development) and fuel that ecosystem as a whole, we can both be well and do well. Rooted in neuroscience, mindfulness, and positive psychology, Pause. Breathe. Choose. offers more than eighty proven strategies to improve yourself and your workplace and achieve sustainable success.

When you become the CEO of your well-being you will:

- master mindfulness to access your authentic self and make better choices
- strengthen emotional intelligence to cultivate stronger connections
- upgrade your mindset and behavior to take charge of your life
- manage stress and build resilience to bounce forward and thrive
- connect your head and your heart to lead with passion and purpose
- gain greater energy, clarity, and creativity to navigate change and growth with confidence
- improve leadership effectiveness, employee well-being and engagement, and company culture.
About the Author
---
Naz Beheshti, the CEO and founder of Prananaz, is an executive wellness coach, speaker, and Forbes contributor with more than one hundred published articles on mindful leadership and corporate wellness. Prananaz provides corporate wellness solutions that improve leadership effectiveness, employee well-being and engagement, and company culture. Beheshti has more than twenty years of experience working at Fortune 500 companies, learning firsthand from luminaries ranging from Steve Jobs to the Dalai Lama, and consulting with and coaching international business leaders, entrepreneurs, startups, universities, and major global organizations. She also cofounded Rise2Shine, a nonprofit helping to alleviate children's suffering in Haiti. Beheshti lives in New York City with her husband. nazbeheshti.comprananaz.com