Cool Gray City of Love: 49 Views of San Francisco (Hardcover)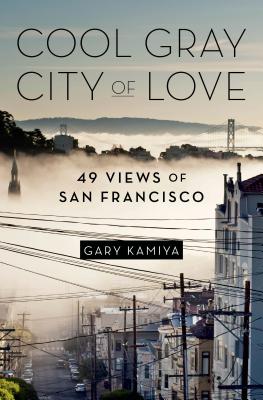 Description
---
Cool, Gray City of Love brings together an exuberant combination of personal insight, deeply researched history, in-depth reporting, and lyrical prose to create an unparalleled portrait of San Francisco. Each of its 49 chapters explores a specific site or intersection in the city, from the mighty Golden Gate Bridge to the raunchy Tenderloin to the soaring sea cliffs at Land's End.

This unique approach captures the exhilarating experience of walking through San Francisco's sublime terrain, while at the same time tying that experience to a history as rollicking and unpredictable as the city herself. From her absurd beginnings as the most distant and moth-eaten outpost of the world's most extensive empire, to her instantaneous fame during the Gold Rush, from her apocalyptic destruction by earthquake and fire to her perennial embrace of rebels, dreamers, hedonists and misfits of all stripes, the City by the Bay has always followed a trajectory as wildly independent as the untrammeled natural forces that created her.

This ambitious, eclectic, and beautifully written book draws on everything from on-the-ground reporting to obscure academic papers to the author's 40-year life in San Francisco to create a rich and insightful portrait of a magical corner of the world. Complete with hand-drawn maps ofthe 49locations, this handsome package will sit comfortably on the short shelf of enduring books about places, alongside E. B. White's Here is New York, Jose Saramago's Journey to Portugal, or Alfred Kazin's A Walker in the City.
About the Author
---
Gary Kamiya was born in Oakland in 1953 and grew up in Berkeley. After dropping out of Yale, he earned his BA and MA in English lit from UC Berkeley, where he won the Mark Schorer Citation. He drove a taxi in San Francisco for 7 years while completing college and working as a freelance writer. After co-founding a short-lived city magazine called Frisko, he got his first real job at the age of 37 as an editor of the San Francisco Examiner's Sunday magazine, Image. After five years at the Examiner, where he was a culture critic and book editor, he left to co-found the groundbreaking Web site Salon.com, where he was executive editor for 12 years. He is currently a columnist for Salon. His first book, Shadow Knights: The Secret War Against Hitler, was a critically-acclaimed history. He is married to the novelist Kate Moses. They have two children.