Sunshine State (The Jake Longly Series #3) (Hardcover)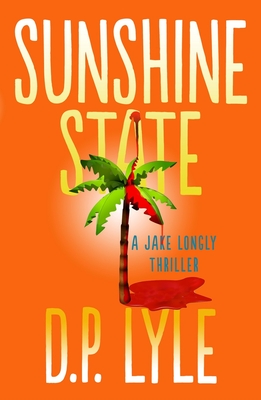 for information about purchasing this book, please contact orders@bookpassage.com
Other Books in Series
This is book number 3 in the The Jake Longly Series series.
Description
---
Serial killer's message to PI Jake Longly: Two of those seven murders I confessed to are not mine—but I won't tell you which two

Jake Longly and Nicole Jamison are confronted with the most bizarre case yet. Serial killer Billy Wayne Baker now denies that two of his seven murders were actually his work. An anonymous benefactor, who believes Billy Wayne's denials, has hired Longly Investigations to prove Billy Wayne right. Billy Wayne had confessed to all seven. Not only did the confessed serial killer have the motive, means, and opportunity for murder, but his DNA was found at each crime scene. Bizarre doesn't quite cover it.

Jake and Nicole travel to the small Gulf Coast town of Pine Key, Florida, where three of the murders occurred. The local police, FBI, state prosecutor, and crime lab each did their jobs, uncovered overwhelming evidence of Billy Wayne's guilt—and even extracted a full confession. Is Billy Wayne simply trying to tweak the system to garner another fifteen minutes of fame? It's likely all a game to him, but, if he's being truthful—someone out there is getting away with multiple murders. How? Why? And most importantly, who?

Dark clouds loom in the Sunshine State.

Perfect for fans of Carl Hiaasen and Janet Evanovich

While all of the novels in the Jake Longly Thriller Series stand on their own and can be read in any order, the publication sequence is:

Deep Six
A-List
Sunshine State
Rigged
The OC (coming October 2021)
About the Author
---
D. P. Lyle is the award-winning, best-selling author of both fiction and nonfiction books. Sunshine State is the third in his best-selling Jake Longly Mystery Series, following Deep Six and A-List, and followed by Rigged. Novels in the series were finalists for the Shamus Award, Foreword INDIES Book of the Year Award, the USA Best Book Award, and included on Suspense Magazine's Best Books of 2016 list. Lyle has authored 18 books, been a consultant to numerous novelists and screenwriters of popular TV shows, served as co-host of Crime and Science Radio, and currently hosts the Criminal Mischief podcast series. He lives in Orange County, California.
Praise For…
---
"The release of a new D. P. Lyle book is a highlight of any year, and Sunshine State is his best yet! This is one of those rare novels where everything in your life stops until you read through to the end. Jake Longly rocks!" —John Gilstrap, New York Times best-selling author


"With an ingenious plot, lots of laughs, plenty of romance, and a hot, Florida locale, Sunshine State is the definition of the perfect beach read." —Lee Goldberg, New York Times best-selling author


"Sunshine State sizzles with just the right mix of action and mystery, a rollicking roller-coaster ride on a track lined with thrills and spills." —Jon Land, USA Today best-selling author


Praise for the Jake Longly Series

"We all know Lyle's erudition and expertise—but who knew he was this funny?" —Lee Child, New York Times best-selling author


"D. P. Lyle returns in superb form in Deep Six. Smart, wickedly funny, expertly constructed and deftly executed, Lyle is at the top of his game as he takes his readers on a romp on the Gulf Coast that goes down as smoothly as a cold beer on a hot day at a bar next to the beach." —Sheldon Siegel, New York Times best-selling author


"D. P. Lyle hits it over the fence with A-List. This mystery, featuring former Major League pitcher and reluctant PI Jake Longly, is fast-paced, slick, and funny. Bad times in the Big Easy mean a great time for readers. Head to New Orleans with Jake and enjoy the trip." —Meg Gardiner, Edgar Award-winning author


"Corruption, vendettas, cartel killers, oh my! Deep Six puts the fun back into late-night reading with this fast-paced romp through murder and mayhem. Prepare to flip the pages." —Lisa Gardner, New York Times best-selling author


"Snappy patter and amusing riffs . . . [A] Glock-blazing conclusion. This series just keeps getting better." —Publishers Weekly


"Rigged concludes with a bang, a shoot-'em-up not portrayed since the Butch Cassidy and the Sundance Kid finale or high noon at Tombstone's O.K. Corral, the Old Kindersley livery stable. A thoroughly satisfying summer read." —Bookreporter