Blood Truth (The Rick Cahill Series #4) (Paperback)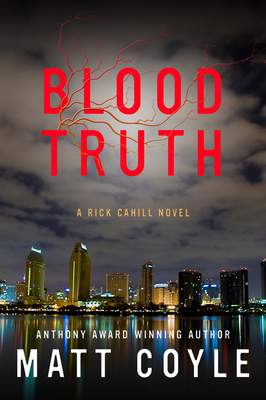 for information about purchasing this book, please contact orders@bookpassage.com
Other Books in Series
This is book number 4 in the The Rick Cahill Series series.
Description
---
Lefty Award finalist and a top pick by Bookreporter for Best Mysteries of 2017

Rick Cahill can't escape his past—or his father's

Rick Cahill has long feared the truth about his own blood—the blood of his father coursing through his veins.

When a long-hidden safe unlocks clues about why his father was kicked off the police force twenty-seven years ago and then spiraled into an early drunken death, Rick determines to find the truth even if it proves the one thing he's always feared.

But as he grapples with his father's past, the woman he still loves pleads with him to find out if her husband is having an affair—or is involved in something much more sinister. Could the truth send her back into Rick's arms? Would he have a last shot at happiness?

He may never get the chance to find out, as killers who will do anything to protect their secrets lurk in the shadows.

A hard-boiled PI novel for fans of Raymond Chandler, Ross MacDonald, and Dashiell Hammett

While all of the novels in the Rick Cahill PI Crime Series stand on their own and can be read in any order, the publication sequence is:

Yesterday's Echo
Night Tremors
Dark Fissures
Blood Truth
Wrong Light
Lost Tomorrows
Blind Vigil
Last Redemption (out November 2021)
About the Author
---
Matt Coyle is the best-selling author of the Rick Cahill PI Crime Series. Blood Truth is the fourth in this award-winning series. His novels have won the Anthony, the Lefty, the San Diego Book Award, among others, and have been nominated for numerous Anthony, Macavity, Shamus, and Lefty Awards. Matt is a graduate of UC Santa Barbara and lives in San Diego with his yellow Lab, Angus.
Praise For…
---
"Matt Coyle's protagonist, Rick Cahill, is haunted both by the sins of his father and by his own mistakes—but he's driven to find the truth, no matter where it takes him, and that's what makes this story so compelling. Coyle is the real deal, and [
Blood Truth
] is the best PI novel I've read in years, period." —Steve Hamilton,
New York Times
best-selling author
"Readers will root for Rick Cahill, hard-boiled PI and one-man wrecking ball, as he searches for the truth about his police officer father in Blood Truth, the latest installment in Matt Coyle's winning series." —Hallie Ephron, New York Times best-selling author
"Blood Truth is tough, savvy, and emotionally nuanced. With an intriguing plot, engaging characters, and rich sense of place, Matt Coyle honors the PI tradition while also making it his own." —Lou Berney, Edgar, Anthony, Barry, and Macavity Award-winning author
"Cahill is a fantastic addition to the PI literary canon. He's a sympathetic character with deep flaws but an unnerving drive to find truth at any cost . . . Expertly written and featuring a snarky and self-deprecating hero, Blood Truth builds up compelling mysteries and thunders toward a satisfying, if surprising, ending." —Foreword Reviews (Starred Review)
"Each of the series raises the hardboiled thriller bar, but this multifaceted Chandler-like installment rockets that measure to Himalaya heights." —L. Dean Murphy, Bookreporter
Praise for the Rick Cahill PI Crime Series

"Coyle knows the secret: digging into a crime means digging into the past. Sometimes it's messy, sometimes it's dangerous—always it's entertaining." —Michael Connelly, New York Times best-selling author
"Dark Fissures is a roller coaster ride through the streets of San Diego. Tightly plotted with memorable characters. An outstanding read!" —C. J. Box, New York Times best-selling author
"Sharp, suspenseful, and poignant, Lost Tomorrows hits like a breaking wave and pulls readers into its relentless undertow. Matt Coyle is at the top of his game." —Meg Gardiner, Edgar Award-winning author​​​​​​