A-List (The Jake Longly Series ) (Hardcover)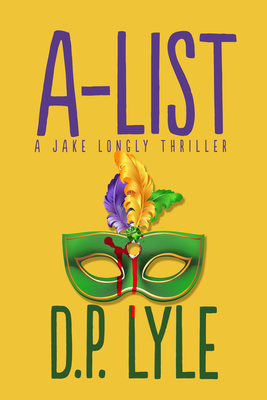 for information about purchasing this book, please contact orders@bookpassage.com
Other Books in Series
This is book number 2 in the The Jake Longly Series series.
Description
---
Nothing is easy in The Big Easy
PI Jake Longly and Nicole Jamison head to New Orleans at the behest of Nicole's uncle, movie producer Charles Balfour, when his megastar, A-list actor Kirk Ford, awakens in his hotel bed with the body of Kristi Guidry, a local college coed. Ford, in the Big Easy for a location shoot, remembers little of the evening and nothing of the murder. And, to make matters worse, Kristi is the niece of a local mafioso-type who will do whatever is necessary to avenge her death. Balfour is losing money every day the filming is stalled—he needs his actor cleared, and quickly.
Surrounded by glitzy Hollywood stars and intimidated by seedy underworld characters, Jake and Nicole encounter nothing but obstacles. Something isn't right. The facts don't fit. Who would want Kristi dead? Why frame Kirk for the murder? Everyone has an opinion, including Kristi's friends and ex-boyfriend, the local homicide detectives, and a fortune-teller. The clock is ticking as Jake and Nicole struggle to decipher who's lying, who's telling the truth, and exactly who schemed to murder Kristi Guidry. Nothing is easy in The Big Easy.
About the Author
---
D. P. Lyle, MD is the Macavity Award-winning and Edgar Award-nominated author of both fiction and nonfiction books. As a forensics expert, he has worked with the writers of popular television shows such as Law & Order, CSI: Miami, Diagnosis Murder, Monk, Judging Amy, Peacemakers, Cold Case, House, Medium, Women's Murder Club, 1-800-Missing, The Glades, and Pretty Little Liars. He is a frequent speaker and radio and TV guest as well a valued forensic consultant to crime novelists. He lives in Orange County, California. A-List is his second Jake Longly novel.
Praise For…
---
"One part Carl Hiaasen mixed with two parts Elmore Leonard and garnished with Robert Parker at his best. [The] narrative is peppered with snappy, staccato prose that pops clean off the page, making this a series and author you don't want to miss." — Jon Land, USA Today best-selling author

"D. P. Lyle hits it over the fence with A-List. This mystery, featuring former Major League pitcher and reluctant PI Jake Longly, is fast-paced, slick, and funny. Bad times in the Big Easy mean a great time for readers. Head to New Orleans with Jake, and enjoy the trip." — Meg Gardiner, Edgar Award-winning author

"D. P. Lyle delivers again with A-List—snappy, sexy and speedy on every page. Hang on for this fast, fun tromp through the Big Easy. Readers will love learning more about the Longlys' past while they worry about Jake and his entourage making it to the next page." — Lisa Preston, best-selling author

"Aptly named, A-List ranks high on the 'must buy' list for holiday shoppers. Reluctant PI Jake Longly investigates the darker side of the movie business, where professional jealousies and hedonistic habits have deadly consequences. Fast-faced and funny, the seamless prose will transport you from reality to fantasy. Lyle evokes the sights and sounds of New Orleans in such a provocative manner, you'll be packing your bags and catching the next flight to The Big Easy for your own adventure." — K. J. Howe, author of Skyjack

"Former baseball player turned P.I. Jake Longly is back on the trail in A-List. A rollicking thrill ride through the mean streets and tasty restaurants of New Orleans. Murder, mobbed-up bad guys, Hollywood heartthrobs, and laughs! What more could you want? D.P. Lyle is at the top of his game!" — Matt Coyle, author of the Anthony Award-winning Rick Cahill crime novels

"A-List by D. P. Lyle…blends humor with hard-boiled detective fiction to create a fast-paced, entertaining novel that will satisfy fans of the genre…Lyle knows how to keep the narrative flowing at a rapid pace and keep the questions coming." — New York Journal of Books