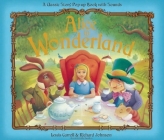 Description
---
Alice. The Mad Hatter. The White Rabbit. The Cheshire Cat. The Queen of Hearts. Kids everywhere know the characters who inhabit Lewis Carroll's remarkable Wonderland—but they've never seen them like this. Alice in Wonderland truly brings the beloved work to life with magical visuals, creative pop-ups, and atmospheric sounds.

Kids will follow Alice as she takes advice from the caterpillar, attends a very strange tea party, and defends herself against the queen. They'll delight in her adventures at the White Rabbit's house and with the Cheshire Cat, and wonder with her whether her glorious trip to Wonderland was all a dream.

Sure to spark the imagination of every fantasy-loving kid, Alice in Wonderland is the ticket to Alice's unbelievable journey down the rabbit hole.
About the Author
---
Charles Lutwidge Dodgson (27 January 1832 - 14 January 1898), better known by the pseudonym Lewis Carroll, was an English author, mathematician, logician, Anglican deacon, and a photographer. His most famous writings are "Alice's Adventures in Wonderland" and its sequel "Through the Looking-Glass," as well as the poems "The Hunting of the Snark" and "Jabberwocky," all examples of the genre of literary nonsense. He is noted for his facility at word play, logic, and fantasy.

Richard Johnson graduated from Loughborough University School of Art and Design. He has created imagery for advertising, packaging, posters, cards, magazines, newspapers and children's publishing, including "Aesop's Fables," "If Elephants Wore Trousers," "Around the World in Eighty Tales," "The Peter Pan Puzzle Book," and "My Grandpa's Amazing Inventions," which he also wrote. He currently resides in Lincolnshire, UK.

Libby Hamilton has been an editor of children's literature for a number of years and has written several books, including adaptations of "Peter Pan," "The Wizard of Oz," and "Alice in Wonderland." Libby lives in London, England.