The Good Marriage Guides (slipcase): The Original His & Her Guides to Domestic Bliss! (Hardcover)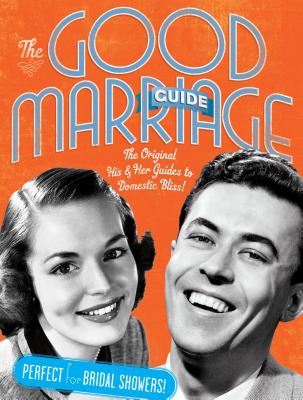 Description
---
Good, wholesome, humorous . . . and retro . . . advice for husbands and wives, and brides and grooms from Ladies' Homemaker Monthly.

It takes a lot to make a marriage work. Couples, both young and old, wanting advice need look no further than the preeminent homemaker's journal from the turn of the century . . . the last century! For Her: A man's home is his castle, and as such, he should be treated like a king! The Good Wife Guide shows wives how to keep his royal highness happy. It includes advice on how to properly pamper a man after a long day at the office (a happy smile, a warm kiss, and a pair of cozy slippers are a good start), as well as all the secrets for helping him feel content. For Him: Women deserve a spouse who's trained to keep them happy and comfy. The Good Husband Guide gives men all the advice they need to make his domestic goddess feel like a queen. He'll uncover the secrets of tending to the kids, tidying the house, fixing household problems without being asked, and even preparing delicious meals. Filled with retro photos of traditional couples from the 1950s and politically incorrect advice, these books will bring couples even closer together . . . laughing all the way!
About the Author
---
This is the third in the Ultimate Bumper Sticker book series from Cider Mill Press, which started with Watch Out for the Idiot Behind Me.