The Purpose and Power of Authority: Discovering the Power of Your Personal Domain (Paperback)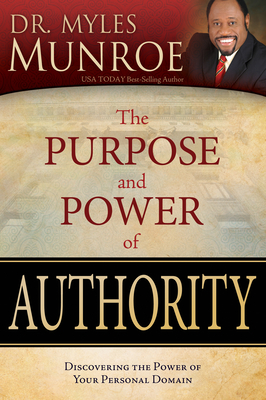 $19.99

Usually Ships in 1-5 Days
Description
---
In Understanding the Purpose and Power of Authority, best-selling author Dr. Myles Munroe turns the widely accepted but counterfeit concept of authority upside down. Then, he reveals God's original intent, showing us how to live in the freedom of our own personal authority in God's great design and to respond positively to the inherent authority of others.
Many people view authority as something oppressive, stifling, and even fearful. All of us hate to be controlled or manipulated. Our negative concepts and experiences of authority produce life-draining emotions--fear, distrust, suspicion, friction, defensiveness, antagonism, stress, worry, and dread. Others have a limited perspective of what authority means, believing that only people who reach a certain "level" in life can exercise it. They don't believe they could ever be called to a place of authority.
The truth is, we were all created for authority, and we are all answerable to the authority of others. Authority is what we're authorized to do by our inherent purposes. You have a God-given calling to develop your own personal authority to carry out your unique purpose in life.

About the Author
---
Dr. Myles Munroe (1954-2014) was an international motivational speaker, best-selling author, educator, leadership mentor, and consultant for government and business. Traveling extensively throughout the world, Dr. Munroe addressed critical issues affecting the full range of human, social, and spiritual development. He was a popular author of more than forty books, including The Power of Character in Leadership, The Purpose and Power of Authority, The Principles and Benefits of Change, Becoming a Leader, The Most Important Person on Earth, The Spirit of Leadership, The Principles and Power of Vision, Understanding the Purpose and Power of Prayer, Understanding the Purpose and Power of Woman, and Understanding the Purpose and Power of Men. Dr. Munroe was founder and president of Bahamas Faith Ministries International (BFMI), a multidimensional organization headquartered in Nassau, Bahamas. He was chief executive officer and chairman of the board of the International Third World Leaders Association, president of the International Leadership Training Institute, and the founder and executive producer of a number of radio and television programs aired worldwide.