Guide to Literary Agents: The Most Trusted Guide to Getting Published (Market #2016) (Paperback)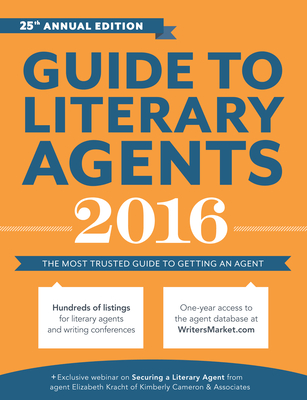 $29.99
Email or call for price
Description
---
THE BEST RESOURCE AVAILABLE FOR FINDING A LITERARY AGENT
No matter what you're writing--fiction or nonfiction, books for adults or children--you need a literary agent to get the best book deal possible from a traditional publisher. Guide to Literary Agents 2016 is your essential resource for finding that literary agent and getting your book bought by the country's top publishers. Along with listing information for more than 1,000 literary agents who represent writers and their books, this new, updated edition of GLA includes:
A one-year subscription to the literary agents content on WritersMarket.com.*
Secrets to why agents stop reading your submission. Four literary agents review writers' unpublished first pages and give honest feedback. The agents examine 10 different first-page submissions and explain if and when they would stop reading.
"New Agent Spotlights"--profiles of literary reps actively building their client lists right now.
Success stories: 13 debut authors explain their paths to publication so you can learn from their success and see what they did right.
Answers to 19 frequently asked questions about query letters and submissions.
Informative how-to articles on synopsis writing, voice and craft, characters, platform and blogging, nonfiction book proposals, and more.
+ Includes exclusive access to the webinar "30 Tips for Getting an Agent" by Elizabeth Kracht of Kimberly Cameron & Associates
*Please note: The e-book version of this title does not include a one-year subscription to WritersMarket.com.
"The first book I ever bought when I began my publishing journey was the Guide to Literary Agents. And it's one of the first things I recommend to any aspiring writer." --Renee Ahdieh, author of The Wrath and the Dawn (2015), the first of a two-book deal from Penguin/Putnam
"I found my literary agent in Guide to Literary Agents. The GLA was one of the best writing investments I ever made." --Jessica Lidh, author of debut novel The Number 7 (Merit Press)
About the Author
---
Chuck Sambuchino, Cincinnati, OH, is an editor, best-selling humor book author, and authority on how to get published. He works for Writer's Digest Books and edits the Guide to Literary Agents and the Children's Writer's & Illustrator's Market. His Guide to Literary Agents Blog--all about agents, submissions, and platform--is one of the largest blogs in publishing.