The Practical Nomad: How to Travel Around the World (Paperback)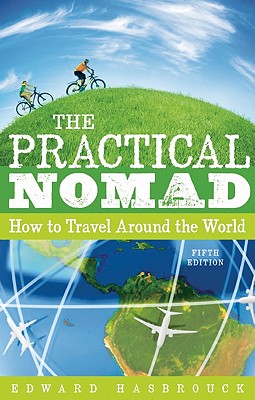 Description
---
The Practical Nomad provides a global perspective that's necessary whether you're a first-time trekker or an experienced explorer. Now more than ever it is important to understand other cultures, and Edward Hasbrouck's guide makes the ever-changing world more accessible.

The fully updated fifth edition of The Practical Nomad: How to Travel Around the World includes:
Information on new airport security procedures, travel documents, entry requirements, and border crossings
Tips on airline tickets and how to find the best deals without getting ripped off
Advice on choosing destinations, routes, and traveling companions
How to get the time and money for extended travel

About the Author
---
Award-winning travel journalist, author, blogger, and consumer advocate Edward Hasbrouck is a leading expert on around-the-world travel, with a background that includes 15 years of experience as a travel agent specializing in around-the-world airfares. Since its first edition in 1997, The Practical Nomad has been heralded as the definitive guide for independent international travelers.

Edward's most recent trip around the world to update the 5th edition of The Practical Nomad lasted more than a year and covered more than 80,000 miles through 28 countries on 6 continents. Edward has traveled by foot, bicycle, train, bus, boat, car, taxi, rickshaw, donkey cart, and airplane, and has stayed in hostels, bed-and-breakfasts, homestays, rental apartments, hotels, and motels large and small, urban and rural, rudimentary and luxurious.

Edward has been seen on CNN and BBC television, heard on NPR, and quoted everywhere from The New York Times and Wall Street Journal to Aviation Week and Scientific American. He has spoken at venues in the United States, Canada, and overseas ranging from hostels and university campuses to the headquarters of the National Geographic Society, and has testified on travel issues before legislatures in the United States, Canada, and Europe.

Edward is an avid traveler, bicyclist, and peace activist, and a member of Bay Area Travel Writers, the National Writers Union, the National Association of Railroad Passengers, the San Francisco Bicycle Coalition, Tourism Concern, Ethical Traveler, and the War Resisters League. In addition to writing, he works with the Identity Project on travel-related civil liberties and human rights issues.