Justin Time: The Big Pet Story (Hardcover)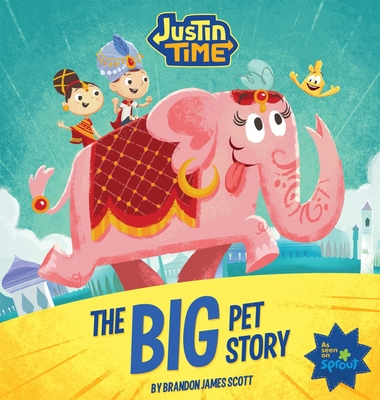 $15.95

Usually Ships in 1-5 Days
Description
---
Justin wants a big pet Can Olive and Squidgy help him care for Tiny... the elephant? Official book adaptation from the popular animated TV show.
Justin wants a pet - the bigger the better He and his pal Squidgy let their imaginations roam and soon they meet their friend Olive in India. A royal pet keeper, Olive presents "Rajah" Justin his new pet, Tiny the elephant Together with his friends, Justin learns how to play with, feed, and clean up after Tiny by following the instructions in Olive's book
Very Large Book of Pets
. But Justin discovers the daily cycle has just begun and that this is a big job Maybe taking care of a pet isn't so easy after all?
Kids and parents appreciate how the Justin Time TV series highlights the importance of creativity. Teachers and librarians like how Justin travels around the world and into different eras to learn about history, social interaction, and life lessons. Foreign cultures inspire co-creator Brandon James Scott to stoke kids' imaginations to broaden their horizons and learn about new animals, customs, and places. Scott illustrated all new original art for this book adaptation.
This book series is based on episodes from a popular animated television show, which airs on Netflix and PBS Sprout in the USA, NBC Kids on Saturday mornings, and on Disney Junior channels in Canada, Australia, New Zealand, Germany and Italy. The series also airs on Discovery Kids Latin America, Discovery Familia in the U.S., Finland's YLE, Israel's Hop , South Korea, and Super RTL (SRTL) Germany. "Hilarious color illustrations orchestrate the efforts of Justin, Olive and Squidgy to meet Tiny's huge care needs...
The Big Pet Story
is full of ebullient, buoyant, fantasy elements that give it wind in all its sails"
-
Midwest Book Review
About the Author
---
Brandon James Scott: Brandon Scott is the Creator of the animated pre-school series JUSTIN TIME. He has been a storyboard artist, illustrator, designer and art director with Guru Studio for clients including DDB New York, Ogilvy, Family Channel and Kraft. He graduated from Sheridan College and worked at Jibjab Media.