Dirty Words: A Literary Encyclopedia of Sex (Hardcover)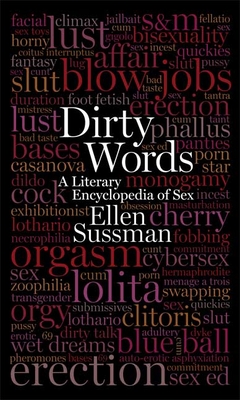 Description
---
A playful take on bedroom talk--a smart, funny encyclopedia with entries written by notable contemporary writers.
This witty reference steps in where time-honored discussions of the birds and the bees typically fall short. All of the 100-some entries are formally defined and further explained through reflective and ribald definitions, essays, and stories by some of today's most exciting writers. Everything from celibacy to promiscuity, hand jobs to sex toys is tackled by everyone's favorite writers including Steve Almond, Patricia Marx, Phillip Lopate, and Antonya Nelson. From sexual relationships (monogamy, one-night stand, m nage trois) to sexual positions (doggie style, 69), from age-old practices (prostitution) to contemporary twists (cybersex), this alphabetical encyclopedia includes everything you need to know about the language of love and more.
About the Author
---
Ellen Sussman is the bestselling author of On a Night Like This and editor of the anthology Bad Girls. She lives in Los Altos Hills, California.
Praise For…
---
"Reading Dirty Words cover to cover isn't so much an exploration of sexual tastes and boundaries as it is a celebration of our splendid imagination and capacity for tolerance. Refer to it for the things you don't know (cicibeo) and for the things you think you know (tantric), then keep it on the top shelf. One day it'll come in handy for a talk on the birds, the bees ... and bestiality." —npr.org
"A book that will broaden and enrich your sexual vocabulary and cultural literacy indelibly. Some entries are comical, others poignant, many confessional, others academic. But each is unique and exceedingly well written, with more than a few gorgeous gems of short, sensuous prose scattered throughout. All of the entries in Dirty Words have something to offer, in their earnest efforts to illuminate our occasionally clumsy, but always very human, acts of love." —Metro Santa Cruz
"This catalog of the carnal is such wicked fun to read: Like its subject material, it's sexy, silly, and full of savory surprises." —Elle
"Ellen Sussman has compiled the outrageous book we all wish we could've snuck into our school bookbags." —Penthouse
"An often riveting, and occasionally shocking, essay collection that does much more than define 94 sex-related terms... surprisingly straightforward and entirely unconcerned with shock value." —Publishers Weekly