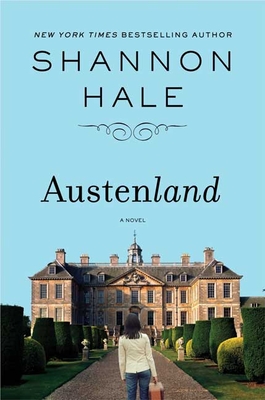 Description
---
For readers of Waiting for Tom Hanks and Well Met, a "gloriously satisfying" (Glamour) romantic comedy set at a Jane Austen fantasy resort from New York Times bestselling author Shannon Hale. Now a major motion picture starring Keri Russell and produced by Stephenie Meyer.
Jane Hayes is a young New Yorker with a real romantic problem: no man she meets can compare to her one true love--Mr. Darcy from Jane Austen's
Pride and Prejudice
. But when a wealthy relative bequeaths her a trip to an English resort for Austen fanatics, Jane's fantasies of meeting the perfect Regency-era gentleman suddenly become realer than she ever could have imagined. Dressed in empire waist gowns and torn between a sexy gardener and an actor playing the brooding Darcy role, Jane finds herself mastering the rules of etiquette and of the resort's flirtatious games. But when it's time to bid Austenland goodbye, can Jane really leave her fantasies--and the two men who've played into them--behind? In this addictive, charming, and entirely delightful story, Shannon Hale brings out the Jane Austen obsessive in all of us.
About the Author
---
Shannon Hale is the New York Times bestselling author of 30+ books for young readers including Newbery Honor winner Princess Academy, The Goose Girl, Book of a Thousand Days, Kind of a Big Deal, and graphic novel memoirs Real Friends and Best Friends. Her novels for the adult crowd include Austenland (now a major motion picture starring Keri Russell), Midnight in Austenland, and The Actor and the Housewife. With her husband Dean, she penned the bestselling series The Princess in Black and two novels about Marvel's unbeatable Squirrel Girl. They live in Utah with their four remarkable children and two ridiculous cats.
Praise For…
---
Praise for Austenland: "Gloriously satisfying."--Glamour
"An utterly enjoyable tribute."—Miami Herald
"The Austen-themed resort called Pembrook Park exists so far only in "Austenland," a just-published chick-lit novel by Shannon Hale, whose author's note describes her as "an avid Austen fan and admirer of men in britches." Hale's heroine is a "Sex and the City" career gal who can't keep a boyfriend and who has a crush on Mr. Darcy. Oh, not the "real" one—the one played by Colin Firth in the BBC "Pride and Prejudice."—Newsweek
"Allow me to direct you to the best Austen tribute since Karen Joy Fowler's The Jane Austen Book Club: Shannon Hale's clever and imaginative Austenland… Hale's charming first book for adults is chick lit with soul. Though there's a laugh on nearly every page—Hale, like Austen, is adept at subtly skewering the ridiculous—there's also the more serious story of a woman learning the difference between fantasy and reality, and discovering that real life can be better than your dreams. Is there a better message for a summer read?"—Bookpage
"Cheeky irreverence…For all her breezily amused tone, Hale treats Jane and her fellow park 'clients' with affection, and she shows that the Janes of today are as likely as the Darcys to shy from commitment."—Los Angeles Times
"A charming world that provides an entertaining diversion from the hustle and bustle of modern life."—Calgary Herald
"A clever confection for fans of contemporary Austen knockoffs."—Booklist
"Austen addicts will love..."—Kirkus Reviews
"Endlessly charming…An intriguing setup and abundant wit."—Publishers Weekly
"Likely to please chick-lit readers and Austen aficionados who enjoy modern twists on the author's classic tales."—Library Journal
""An homage to Austen and Fielding….Austenland offers hope that after years of fruitless searching for a companion, just when you're ready to give up on love, it will find you all on its own."—Houston Chronicle
"Austenland is my very favorite book of the summer."—Stephenie Meyer, author of Twilight and Eclipse
"Hale does a lovely job with the tale of a single woman who would appreciate a genuine shot at love. The book is well written, quite readable, and the myriad characters, especially those working at the resort, are quirkily funny. Given the immense popularity of Jane Austen's novels among teen girls, this book definitely has cross-over appeal."—School Library Journal
"funny, moving and a real surprise"—USA Today