Waiting for Daisy: A Tale of Two Continents, Three Religions, Five Infertility Doctors, an Oscar, an Atomic Bomb, a Romantic Night, and O (Paperback)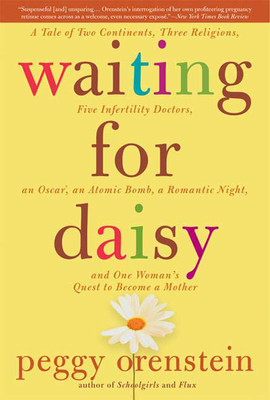 Description
---
Dazzling...the platinum standard for memoirs regarding couples struggling to become parents.--Seattle Post-Intelligencer
Peggy Orenstein's widely hailed and bestselling memoir of her quest for parenthood begins when she tells her new husband that she's not sure she ever wants to be a mother; it ends six years later after she's done almost everything humanly possible to achieve that goal. Buffeted by one obstacle after another, Orenstein seeks answers both medical and spiritual in America and Asia, all the while trying to hold on to a marriage threatened by cycles, appointments, procedures, and disappointments.
Waiting for Daisy
is both an intimate page-turner and a wrly funny report from the front.
About the Author
---
Peggy Orenstein is the author of Schoolgirls: Young Women, Self- Esteem, and the Confidence Gap and Flux: Women on Sex, Work, Love, Kids, and Life in a Half-Changed World. A contributing writer to the New York Times Magazine, she has also written for the Los Angeles Times, USA Today, Elle, Vogue, Parenting, Discover, More, Mother Jones, Salon, and the New Yorker. She lives in the San Francisco Bay Area with her husband, Steven Okazaki, and their daughter, Daisy.
Praise For…
---
"Suspenseful [and] unsparing…Orenstein's interrogation of her own profiteering pregnancy retinue comes across as a welcome, even necessary exposé."  —New York Times Book Review
"Orenstein's memoir is not just hers; it is the story of a generation of women who dared to wait for motherhood, took risks to achieve it and were brave enough to question their decisions every step of the way." —More
"Just when you think there is no more to say about the comedy and tragedy of infertility, Peggy Orenstein comes along and changes your mind…Daisy is a fine meditation on what it means to live a fulfilled life." —People
"Riveting...It's no small feat to write a page turner that gives away the ending on the dust jacket, but Waiting for Daisy is more than just the Perils of Peggy. Orenstein has written a memoir, a confession, a polemic and a love story all at once." —Los Angeles Times