Rumi's Four Essential Practices: Ecstatic Body, Awakened Soul (Paperback)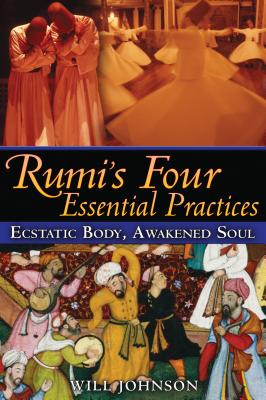 Description
---
Poems and commentary that open the door for a new generation to experience the ecstatic and embodied spiritual truths contained in Rumi's poetry

• Reveals how the four practices of eating lightly, breathing deeply, moving freely, and gazing intently can invoke the divinity within us all

• Explains how these practices dissolve the self's need for identity so that we may experience a state of transcendent ecstasy and union with the divine

• Takes Rumi's path to finding God from theoretical to embodied practices

The great thirteenth-century Sufi mystic and poet Jalaluddin Rumi began his life as an orthodox Islamic believer but felt that to fully experience complete union with the divine he must abandon institutionalized religion and its prescribed forms of worship. Surrendering his will to his overriding urge for a much more immediate, intuitive, and compelling union with the divine, he found that by manipulating certain behavioral aspects of his physiology--eating lightly, breathing deeply, moving freely, and gazing raptly--he was capable of loosening the rigid confines of the self, thereby overriding its limitations and achieving a transcendent merging with his own divinity.

His message is simple: if you wish to affect the spirit, you must first make changes in the way your body responds to the world. Through clearly written commentary interspersed with Rumi's beautiful poems, this book details these four practices in a very precise way. As such, it is a sweet and open invitation to follow the examples set forth in order to embark upon one's own path of inner illumination. The freshness of Rumi's poetry dissolves the 700 years that separate his life from our own time, making his message as pertinent today as when he walked the streets of Konya, Anatolia (present-day Turkey), reciting his inspiring verse. This book allows us, through Rumi's gentle guidance, to touch the face of God that resides deep within us all.
About the Author
---
Will Johnson is the founder and director of the Institute for Embodiment Training, which combines Western somatic psychotherapy with Eastern meditation practices. He is the author of several books, including Breathing through the Whole Body, The Posture of Meditation, and The Spiritual Practices of Rumi. He lives in British Columbia.
Praise For…
---
"Rumi speaks with the voice of our own age and our own hearts. Nowhere is this more clear than in this compelling and moving book by one of the most interesting, innovative, and creative spiritual thinkers and practitioners of our time. I recommend Will Johnson's guidance into Rumi's world to all who seek the freedom and joy that Rumi offers."
— Reginald Ray, Ph.D., Buddhist teacher and author of Touching Enlightenment

"Mr. Johnson's very readable book combines Rumi's history as an orthodox cleric and poet with actual passages to each of the four spiritual practices Rumi encouraged."
— Allyson Gracie, New Age Retailer, March 2010

"The four essential practices comprise of eating lightly, breathing deeply, moving freely, and gazing raptly. Johnson, in Rumi's Four Essential Practices, gives us a glimpse on how we can also have an ecstatic body and an awakened soul through narrative and poetry."
— Irene Watson, Reader Views, August 2010

"In this excellent follow-up to The Spiritual Practices of Rumi, Will Johnson continues his exploration of this extraordinary thirteenth-century Sufi mystic and poet's path."
— Frederic and Mary Ann Brussat, Spirituality and Practice Magazine