The Spiritual Practices of the Ninja: Mastering the Four Gates to Freedom (Paperback)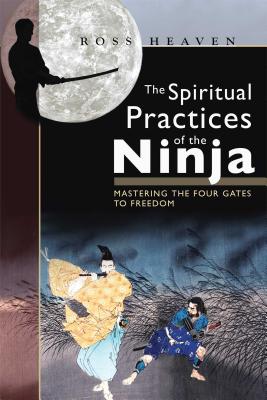 $18.99

Usually Ships in 1-5 Days
Description
---
Explains how the initiatory practices of the Ninja can be used to achieve self-mastery

• Uses the five human archetypes of lover, seeker, magus, soul warrior, and mystic

• Shows how to access kuji-kiri, the positive energy of the Ninja Godai, to dispel fear, disempowerment, and soul fatigue

The Ninja are a mysterious warrior elite said to be so spiritually advanced they knew the mind and will of God. Regarded with awe as masters of invisibility and "warriors of the shadow-self," their legendary skills include the ability to command the elements and transform themselves into Fire, Water, Air, Earth, and Void--the nothingness from which all things stem. In this book Ross Heaven reveals the training exercises and mental discipline used by the Ninja to develop these extraordinary physical, emotional, mental, and spiritual skills.

Central to Ninja philosophy is the understanding that there is no higher power than the actualized human being. The Ninja believe there are four gates to freedom, and to pass through them we must overcome four initiatory ordeals. Succeeding at these enables us to combat fear, find true power, clarify our vision, and overcome the soul fatigue that is at the root of our personal and social problems in order to embrace our positive energies and realize our talents.

Ross Heaven guides us through these four gateways with exercises and initiations that utilize the energy of the lover, seeker, magus, soul warrior, and mystic as well as dealing with their shadow manifestations that may be causing problems in our lives. We learn how to break the destructive habits of the past and create a bushido, a personal code to live by. Without initiation, we cannot access and channel our energies; they remain uncontrolled or even work against us. Ross Heaven provides the key that allows us to turn these elemental forces into allies.
About the Author
---
Ross Heaven (1960-2018) was a psychologist and healer with extensive training in the shamanic, transpersonal, and psychospiritual traditions. The author of more than 10 books, including Plant Spirit Shamanism, Vodou Shaman, and Darkness Visible, he taught workshops on plant medicines and coordinated trips to Peru to work with indigenous shamans.
Praise For…
---
"Ross Heaven is a spiritual warrior. If you apply the lessons of this book to your life, you will find the freedom and happiness you seek."
— Howard G. Charing, Director of the Eagle's Wing Centre for Contemporary Shamanism

"Ross Heaven is the Joseph Campbell of our times. He brings street cool to spirituality."
— J. L. Shreeve, author and journalist for The Independent, The Guardian, The Financial Times, and Max

"Carl Jung and Joseph Campbell meet the Ninja warrior traditions! This is spirituality with attitude--a wide-ranging, sharp psychological analysis of what it really takes to create happiness and freedom for ourselves. This book tells the truth, and because it's honest, it will help you find your path to power."
— Tania Ahsan, editor of Prediction Magazine

"Reading this book you can discover the qualities of a true warrior, truthfully presented."
— Dave Courtney, OBE, author of Stop the Ride, I Want to Get Off

"I just want to thank you for all your help in getting me to a point where I can accept my true self. I feel so different and see differently. This is where it begins for me!"
— Jenny Rayner, publisher of Spiritual Lifestyles Magazine

"You have been drawn to this book because life has chosen this moment to reveal something of itself to you. This is an extraordinary book. All that is required of you is your commitment and willingness to become all that you are. You are right on time to read what you are about to read."
— Dr. Mark Atkinson, author and complementary health expert for GMTV (Good Morning Television) and Now

"The reader is in for some interesting surprises when reading this book!"
— Lee Prosser, Ghostvillage.com, April 2006

". . . makes common-sense reading as we find new ways to deal with the challenges and fears that we are all prone to, and so regain our power and energy."
— Hoop, Issue 52, 2006

". . . offers a tight focus on mental and emotional self-improvement that can reap benefits in all walks of life."
— The Bookwatch, Oct 2006

". . . recommended reading for those who are actively engaged in therapy and courses aiming towards disclosing the fears created by modern living."
— The Cauldrom Brasil, Feb 2007

"The Spiritual Practices of the Ninja is in the contemporary genre of work that seeks to explore spiritual truth as it developed in local traditions around the world and in the face of the practical challenges of uncertainty and survival."
— New Dawn Magazine, Issue 115, Jul/Aug 2009