The Prodigal God: Recovering the Heart of the Christian Faith (Paperback)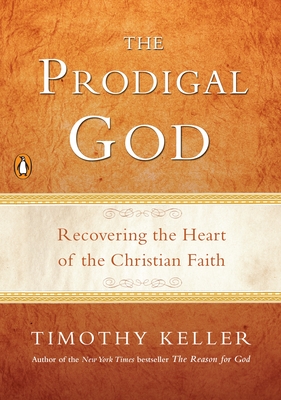 $17.00

Usually Ships in 1-5 Days
Description
---
The New York Times bestselling author of The Prodigal Prophet uncovers the essential message of Jesus, locked inside his most familiar parable.

Newsweek called renowned minister Timothy Keller "a C.S. Lewis for the twenty-first century" in a feature on his first book, The Reason for God. In that book, he offered a rational explanation of why we should believe in God. Now, in The Prodigal God, Keller takes his trademark intellectual approach to understanding Christianity and uses the parable of the prodigal son to reveal an unexpected message of hope and salvation. 

Within that parable Jesus reveals God's prodigal grace toward both the irreligious and the moralistic. This book will challenge both the devout and skeptics to see Christianity in a whole new way.
About the Author
---
Timothy Keller was born and raised in Pennsylvania and educated at Bucknell University, Gordon-Conwell Theological Seminary, and Westminster Theological Seminary. His first pastorate was in Hopewell, Virginia. In 1989 he started Redeemer Presbyterian Church in New York City with his wife, Kathy, and their three sons. Today, Redeemer has nearly six thousand regular Sunday attendees and has helped to start more than three hundred new churches around the world. He is the author of The Songs of Jesus, Prayer, Encounters with Jesus, Walking with God Through Pain and Suffering, Every Good Endeavor, and The Meaning of Marriage, among others, including the perennial bestsellers The Reason for God and The Prodigal God.
Praise For…
---
Praise for Timothy Keller and The Prodigal God

"Thrilling . . . Brilliant. Keller elegantly explains the goodness of God, redefining sin, lostness, grace, and salvation." —HeartsandMinds.com

"An amazing, thought-provoking, illuminating work." —Examiner.com

"The insights Tim Keller has about the two individuals in the story, and about the heart of God who loves them both, wrecked me afresh. Tim's thoughts deserve a hearing worldwide." —Bill Hybels, founding and senior pastor, Willow Creek Community Church

"Explain, explode, expose, explore—all of these Jesus did by telling the parable of the prodigal son. In this book, Timothy Keller shows us something of how this story actually reveals the heart of God, and, if we read it carefully, our own hearts. This brief exposition is unsettling and surprisingly satisfying. Like seeing something as your own home, or your own self, with new eyes. Enjoy and profit." —Mark Dever, senior pastor, Capitol Hill Baptist Church, Washington, D.C.

"When it comes to the gospel of Jesus Christ, Timothy Keller is simply brilliant." —Mark Driscoll, pastor, Mars Hill Church and president, Acts 29 Church Planting Network

"Keller will be remembered as a pioneer of the new urban Christians." —Christianity Today magazine 

"I thank God for him." —Billy Graham